Why I Married That Man, Part 96 -- The Simpsons Feast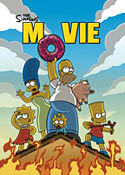 I don't want to get too schmoopy here -- although this weekend marks the fourth anniversary of the first time my husband and I smooched -- but my h­usband continually does these wonderful things that make me remember why I ­married him. Film geeks should be jealous:
For my birthday last year, he not only replaced my lost copy of Spike, Mike, Slackers, and Dykes (a friend borrowed it and moved to another state) with the updated Spike and Mike Reloaded, but got author John Pierson to sign it for me. Scott Mosier was hanging out at the Piersons' house at the time so he signed it too.
For Valentines Day, he bought us a Heroes of the Alamo membership (although it turned out that the downtown Drafthouse closed and moved anyway) ... and even let me keep the t-shirt.
Yesterday, he emailed me with the cryptic message, "What are you doing on the evening of Wednesday, August 1?" Last time he asked me something like that, we ended up at a concert, which was a fun surprise. I wondered what he had in mind this time. I emailed him back with, "No plans ... are you planning something?"
While I was waiting for a response, I browsed Bloglines to see if any websites had updated their RSS feeds. The Alamo Drafthouse blog had a new post -- all about the promos the theaters will be doing when The Simpsons Movie is released later this month. They'll have a Squishy machine in the South Lamar lobby, various menu specials (would you dare try a Ribwich?), a special pre-show ... and at the end of the month, a multi-course Simpsons-themed feast.
Suddenly the penny dropped, I realized the South Lamar feast was on Aug. 1, and I checked my email to find that my husband had replied to my "Are you planning anything?" message with "D'oh!"
Cowabunga, baby, we're going to the Simpsons Feast! We have never done one of the big splashy Alamo Drafthouse feasts, although I had fun at the Ultimate Garlic Experience a couple of years ago and also enjoyed the four-soup-course meal from the Soup Peddler that accompanied Duck Soup. But now we are taking the plunge. We may not survive ... go read that menu. The "tomacco sauce" scares me a little, but not as much as the idea of a casserole made from "thousands of donuts" and topped with pink icing and sprinkles. I will accept the challenge! I may need to bring bigger pants.
We're more fond of the older episodes of The Simpsons than the more recent ones -- my favorites are from Season Four. We're not sure how much we'll like The Simpsons Movie, to be honest. But we figure we'll enjoy it a lot more if we're watching it during the Simpsons Feast at Alamo. I will let you know what happens. And now I will go smoooooch my husband.