Chip Rosenthal's blog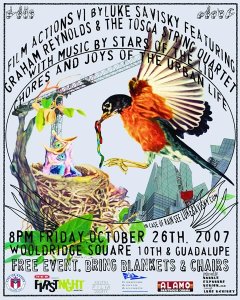 ­I'm not sure I understand what this is, but it's free, outdoors, involves music and sounds mega freaky—­so it's got to be worth a look.
Experimental film artist Luke Savisky will present "Film Actions VI". Includes music by Graham Reynolds. It will be outdoors at Woolridge Square Park on Friday, Oct 26 at 8pm.
­Here is a writeup I found on the Austin Parks Foundation calendar:
On Friday, Octob­er 26, 2007, experimental film artist Luke Savisky will bring Wooldridge Square alive with projected film images and lighting accompanied by live music from composer Graham Reynolds and recorded music by Stars of the Lid. Using more than twelve projectors, Savisky will float a montage of images on to existing trees and translucent scrims placed around the park's gazebo. Savisky will construct a non-traditional screen made of fog with intermittent sprays of water and projected imagery from Barton Springs and other natural areas of Austin. Transposed recorded music by Stars of Lid will interchange with live music and original compostions by award-winning composer Graham Reynolds and the Tosca String Quartet. This project is a large scale film projection installation/performance and is the latest in Savisky's series of "Film Actions" that have been performed at The Sundance Film Festival and The Dallas Museum of Art. The event will involve 35mm film, 16mm film and digital video installations in and around the grounds of Wooldridge Square involving the natural features of the park. The event is FREE to the community. Bring blankets and chairs for seating. A second performance by Luke Savisky is scheduled for Monday, December 31 as part of H-E-B Presents First Night Austin 2008.