Austin Film Festival wrap-up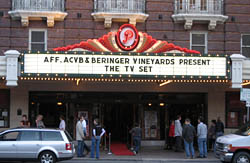 Austin Film Festival's closing night was on Thursday, although to be honest, I didn't get to see any films after Tuesday night. I had a conflicting event on Wednesday, and then on Thursday I decided I would wait and see the Tenacious D movie with my husband, because this seems to be a time of the year when we have difficulty finding light-hearted movies we'd both like to see in theaters.
A couple of notes on this year's festival:
Film festival in-house ads can be terribly annoying -- if not on the first day, than certainly by the end of the festival. However, the "Script Cops" shorts at AFF were pretty funny, and there were enough of them that I never got irritated ... except for one thing. The tagline of the ads was "Write good." Any writer who knows her grammar had to find that a little grating.
I just realized I had a postcard for "Script Cops" in my purse, which a nice man dressed as a police officer gave me while I was waiting in line for Catch and Release. Turns out the trailers were co-written and directed by Scott Rice, whose shorts The Adventures of Mad Matt, Pillowtalk, and Perils of Nude Modeling I've thoroughly enjoyed. Also, you can watch all the "Script Cops" trailers online.
While the "Script Cops" trailers were fun, AFF made the mistake of using the same sponsor reel background images and music from last year. That music is a terrible earworm and it showed up in my dreams on multiple nights. Please, guys, find a way to create a new sponsor reel next year. I don't think I can stand to hear it one more time (and now that I'm writing about it, it's stuck in my head again ... gaaaaah).
Question for Austin filmgoers: Where do you go to eat before seeing an evening movie at the Paramount (or for that matter, The Hideout)? Many of the restaurants along that section of Congress close at 6 pm. I can only eat Wiki Wiki Teriyaki so many times. Some friends have recommended the bar at McCormick and Schmick's, which has a cheap happy-hour menu, but that doesn't work well if you're eating alone. If you've got other suggestions, please post them in the comments.
All my Cinematical reviews and features on AFF have gone live now, so here's the list:
I saw more movies than that, but you know, I still haven't finished my Fantastic Fest reviews, so don't hold your breath.