Fantastic Fest 2009: Debbie's Wrap-Up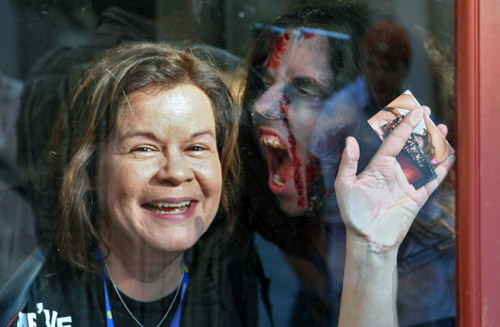 The out-of-town fans, actors, filmmakers and film critics have gone home, the parties are over and the post-fest colds are slowly fading after Fantastic Fest 2009. It seems like a good time to reflect over and share my personal festival experience this year, including some films you might want to check out.
Movie highlights:
Solomon Kane - The talented and charismatic British actor James Purefoy portrays the title fictional character created by pulp-era writer Robert E. Howard, best known for his Conan the Barbarian series. Sword and sorcery adventure takes a twist, set in the Puritan era in a grim time portrayed through rain and snow. Despite all the action that packs a wallop in this film, what is truly the core of Solomon Kane is the vision of one man's path to redemption, found in an unlikely manner. The supporting characters in the Crowthorn family were well-cast, with Pete Postlethwaite and Alice Krige as the protective parents and siblings Rachel and Patrick Hurd-Wood as two of the Crowthorn children. Max Von Sydow also makes an appearance.
Q & A highlight: I especially enjoyed writer/director Michael J. Bassett talking about the process of determining the effects of certain weapons, which I described in our latest podcast. It's a technique that will make me question every action film I see involving a weapon from now on.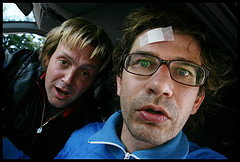 Dirty Mind - I was on the fence about seeing this film, which focuses an introverted and socially inept guy. Diego wakes up after an accident and has been transformed into Tony T., a smooth-talking no-holds-barred stuntman. After a slow start in the prologue, the action and comedy starts and doesn't let up until the closing credits. Belgian comedian Wim Helsen stars in his first film as Diego/Tony T., who I both loved and hated. Co-star Robbie Cleiren as Diego's brother Cisse reminded me of Joe Pesci's character Leo Getz from Lethal Weapon for a reason I've yet to put my finger on.
Q & A highlight: Writer/Director Pieter Van Hees spoke of his movie "series" -- last year's Left Bank was about the body, Dirty Mind is about the brain, and the theme for his final film of the three-part series is death. I was surprised to hear that Pieter doesn't like writing, but he does it because he can't afford to pay writers. Originally Dirty Mind was planned as a thriller, but inspirations from Stanley Kubrick's Dr. Strangelove motivated Pieter to strike a nice balance in Dirty Mind between comedy and seriousness. Another interesting point is that apparently there are only TWO stuntmen working in Belgium, and so stuntmen were brought in from Holland.
The Revenant - As the writing and directorial debut of D. Kerry Prior, this film exceeded my expectations. With a background in special effects, Kerry was able to deliver great horror. Through his writing comes out his dark sense of humor and strong relationships between male friends, much of which is inspired by his personal life and experiences. The horror film is about what happens to a dead body and what is discovered when someone returns unexpectedly from the dead.
Q & A highlight: For more details, check Slackerwood later this week for a special edition mini-podcast interview with Kerry, who won Best Horror Director of Fantastic Fest 2009.
Rampage - Although it wasn't one of my top movies, it's well worth a mention. Uwe Boll has taken some punches both literally and figuratively for his films, and with a mostly improvised dialogue, Rampage could have been easily doomed, which is not the case. This solid film shows through flashback/forwards the trouble brewing with Bill (Brendan Fletcher), a 23-year-old young man living with his parents.
Matt Frewer (Max Headroom) and Lynda Boyd play Bill's parents, oblivious to the anger and violence buidling in their own house.
The film is quite well structured for a treatment that was reportedly less than ten pages. As violent as this film is, it is still one I'm comfortable with and not disturbed by as I am by Oliver Stone's 1994 Natural Born Killers.
Q & A Highlight: Having seen Uwe's Q and A for Postal I was sorry to have missed his appearance for Rampage. Instead Brendan Fletcher, pictured at right, fielded questions about the film. Brendan seemed a little uncomfortable discussing the film, seemingly from the violent nature and that folks might "connect" to the character. In a side conversation, I mentioned to Brendan that it's not such a taboo subject here due to historical events that have occurred in Texas.
Zombieland - Read my review here, and go see it more than once - "Double Tap!"
Q & A Highlight: Listen to our podcast and hear the film's director and stars talk about the film.
Austin Connections - Many local filmmakers and critics were in attendance throughout the festival. Writer/director Tracie Laymon, pictured above, returned to her Texas roots from L.A. to present her film short Inside. We'll post a special edition Slackerwood podcast next week featuring an interview with Tracie.
On a side note, while setting up for our interview at Progress Coffee, we met up with a couple of Tracie's friends: Brian Steidle, lead character in the documentary The Devil Came on Horseback and Andi Scull-Steidle, founder of Helping Other People Everywhere (HOPE). HOPE's programs are impressive, especially their involvement in the Tiziano Project, which creates self-sustaining, multimedia, online citizen journalism in areas of the world neglected by the established press. Citizens are mentored and learn how to be effective reporters and videographers.
Speaking of special people:
Special Acknowledgements - It takes a lot of people working long hours over weeks before and during the event to put on a successful festival. Kudos to the Alamo Drafthouse staff including their managers, programmers, shuttle drivers, courtesy desk, and waitstaff. Special thanks to Jill Parrish and Bradley Parrett for their incredible organizational skills and attention to detail. Major kudos to the dedicated volunteers who donated their time to make everyone's festival experience a memorable one.
Most importantly, what makes the Fantastic Fest a truly FANTASTIC festival each year is Tim and Karrie League. Filmmakers I spoke with talked repeatedly about their admiration and appreciation of the Leagues and their hard work and dedication in bringing a unique opportunity to all who attend.
[Photo credits top to bottom: "Debbie in Zombieland," by Jette Kernion; Dirty Mind still shot; "Willita as the UNdead," by Debbie Cerda; "Tracie Laymon at Progress Coffee," by Debbie Cerda; "Karrie and Tim League" at Louie Mueller Barbecue, by Debbie Cerda at Flickr]