Quick Snaps: Wandering Seats from Hogg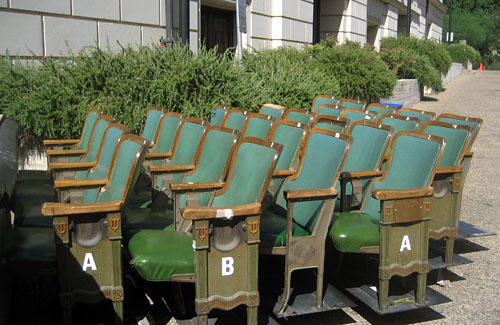 I was walking around the UT Austin campus recently and passed Hogg Auditorium. Hogg is used as a classroom these days, but when I went to UT, the student union showed movies there. I wish I had a photo of the inside for you -- it looks more like a movie theater than an auditorium, and even has balcony seating. It's lovely without being too fancy.
For some reason, some of the theater-I-mean-auditorium seats were outside of the building. Were they being sent off for cleaning? I have no idea. But I took advantage of the opportunity to snap a photo. I don't think the seats have changed much since I used to sit in them for movies.
Hogg was never what you might call the latest greatest high-tech theater. It was notorious for the bats that would fly behind the screen sometimes. But I had one of my most memorable moviegoing experiences there, my first semester at UT. My long-distance boyfriend had just broken up with me, it had been a miserable weekend with a lot of crying in the dorm-room shower (the only private place possible), and for whatever reason, I decided to go see a movie to cheer me up. Hogg was showing one of my favorite movies ... Brazil.
And while Brazil is not the cheeriest, most optimistic movie on the planet, by the end of it I felt a lot better. Brazil is a perfect film to watch with bat silhouettes swooping behind the picture. And I loved the old-fashioned clock above the exit of the theater, which was lighted in the dark without being distracting. After seeing Brazil, I was ready to deal with grad school and the rest of the universe again.
Years later, a group of us used to go to Hogg on the weekends to watch subtitled Jackie Chan movies, the only place in town (probably in state, for that matter) where you could catch these films. I loved sitting in the balcony and watching Armour of God II: Operation Condor and City Hunter and whatever else the student union could dig up.
Hogg's days as a movie theater are over ... but it still has movie connections. The auditorium was used in Bandslam as the location for the big band competition at the end of the movie. If you see the film, keep your eyes open for a few quick shots of Hogg. Too bad they couldn't hold a special screening of Bandslam there.
Here's one more detailed shot of the theater seats, which were more interesting than comfortable, but which I miss nonetheless.