Win Tickets to See 'In Our Nature' Next Week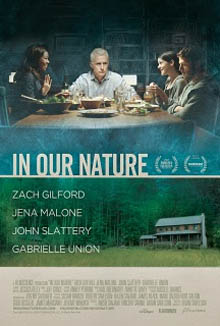 The indie drama In Our Nature, which premiered at SXSW in March, returns to Austin on Friday for a theatrical run. The movie stars Jena Malone, Gabrielle Union, Zach Gilford and John Slattery.
Look for Don's review this afternoon -- among other things, he's says it's "an astute film with much to say about family dynamics." It's about a father and son spending a weekend with their respective partners at a vacation home in upstate New York.
We have two pairs of tickets to give away to see In Our Nature at Regal Arbor 8. You can use these tickets to attend any screening of the movie at the Arbor from Monday 12/17 through Thursday 12/20. Tickets must be redeemed at the box office and seating is subject to availability.
If you can't wait for Monday and want to see the movie this weekend, I recommend going to the 7:30 pm screenings on Friday and Saturday night at the Arbor. In Our Nature writer/director Brian Savelson and producer Anish Savjani will hold post-film Q&As at those screenings. Savjani is a former Austinite who has produced locally connected indies such as The Taiwan Oyster, Mars, Harmony and Me, I'll Come Running and You Hurt My Feelings -- not to mention Meek's Cutoff and Wendy and Lucy.
Now, here's how to win one of these pairs of tickets. Tell us in the comments about a parent/child movie you particularly like. Make sure you include your email address, which only I will see, and will use only to contact the winners. Post your comment by 11:59 pm today (Thursday, Dec. 13). I'll pick two people at random who will each win an admit-two pass, which will be available for you at the Arbor box office. Best of luck!