Movies This Week: November 16-20, 2012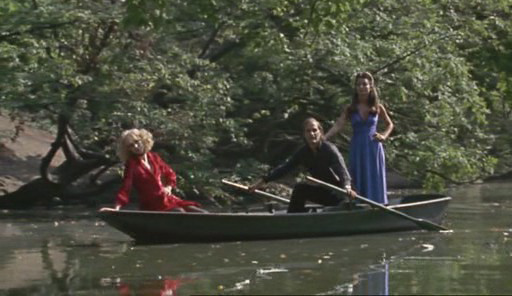 This weekend brings what may be the year's ultimate clash of cinematic titans: Steven Spielberg's Lincoln battles The Twilight Saga: Breaking Dawn - Part 2 for the hearts, minds and wallets of America's moviegoers. Which one will take home the box-office gold? I think we all know the answer. Which one will take home the critical acclaim? We all know the answer to this question, too. Which one will your teenage daughter see? Hopefully, Lincoln. (Tell her that those who do not remember the past are condemned to fail their history exams.)
If you don't know Team Edward from Team Jacob and think the Civil War is so 19th century, how about a little French New Wave? On Saturday and Sunday at the Alamo South Lamar, the Austin Film Society presents Jacques Rivette's celebrated 1974 experimental narrative, Celine and Julie Go Boating (pictured above). This surrealistic tale recounts the adventures of two women who, with the help of some magic candy, get plugged into a bizarre drama in a mysterious house. One of the seminal films of the Seventies, Celine and Julie Go Boating is regarded as Rivette's most accomplished film.
Many younger film fans have seen The Godfather, but not so many have seen it on a big screen. You haven't? Then don't miss the film's 40th anniversary screenings this Saturday and Sunday at Alamo Ritz. If any film demands to be seen in a theater, it's Francis Ford Coppola's masterpiece.
And Jette has to butt in here briefly because Preston Sturges movies are being shown in Austin and she is extremely Team Preston. Alamo Drafthouse is screening 35mm prints of Sullivan's Travels, The Miracle of Morgan's Creek and (yes!) The Palm Beach Story over the next few weeks.
This week's most unusual film event no doubt is the Alamo Drafthouse Road Rage Drive-In screening of Wild at Heart on Saturday at the Colorado Chapel Cemetery east of Austin. As if David Lynch's critically acclaimed 1990 road movie about a young couple of outcasts isn't enough of a draw, the screening also features sandwiches from Franklin Barbecue.
Movies We've Seen
A Late Quartet -- In this drama structured around a Beethoven opus, members of a renowned string quartet struggle to stay together when the group's cellist receives a life-changing diagnosis. The highbrow A Late Quartet has the noblest of intentions, but it's a bore. As I said in my review, "Even the film's solid performances, occasional humor and confrontational sparks can't overcome the mostly lifeless script and sometimes plodding direction." (Arbor)
Silver Linings Playbook -- In this romantic comedy, a former teacher moves back in with his parents after a stint in a mental institution and tries to reconcile with his ex-wife. Enter a mysterious girl with her own problems, and things get complicated. Elizabeth really enjoyed the film, saying in her review, "Although it's a movie about a couple dealing with mental health issues, Silver Linings Playbook consistently made me laugh while growing to care for the romantic leads, Pat and Tiffany, as well as the supporting characters." (wide)
This Must Be the Place -- Sean Penn stars in this comedy as a retired rock star who searches for the man who humiliated his deceased father during WWII. Debbie's review praises the performances, but not the rest of the film: "Unfortunately, the meandering narrative makes it difficult to remain engaged in This Must Be the Place, as it's difficult to understand what this film is meant to be." (Metropolitan)
Lincoln -- Steven Spielberg's much-anticipated Civil War drama focuses on Abraham Lincoln's struggle with his cabinet members to free the slaves. The reviews are mostly gushing, but Jette wasn't completely impressed: "A prestigious and admirable History Channel special ... no, wait, this is a Steven Spielberg movie with an all-star cast. You'll find at least one performance in it you love (David Strathairn! Tommy Lee Jones! James Spader!), but the movie runs about a half-hour too long. Did they think we wouldn't know what happens to the title character?" Look for Rod's review this weekend. (wide)
The Twilight Saga: Breaking Dawn - Part 2 -- Edward Cullen and friends do vampire stuff, and there's probably some kind of romance or something. The final Twilight installment pleasantly surprised Mike; as he said in his review, "In spite of its ungainly title, it's actually a surprising crowd-pleaser. Fans of Stephenie Meyer's books will find this an improvement over the story they were expecting." Look for Mike's review this weekend. (wide)
Other Movies Opening in Austin
Jab Tak Hai Jaan -- In this Bollywood romance, a young musician must choose between his love and his loyalty to a friend while his muse must choose between her love and doing the right thing. (Tinseltown South)
Miami Connection -- Resurrected by the folks at Drafthouse Films for a DVD and theatrical release, this 1987 festival of comic schlock is the story of a martial-arts rock band that takes on a band of motorcycle ninjas who control Florida's narcotics trade. (Alamo South Lamar)
Son of Sardaar -- This Bollywood action comedy tells the story of a man who becomes the latest target in a longstanding family feud after returning to his parents' village. (Tinseltown South)