Review: This Must Be the Place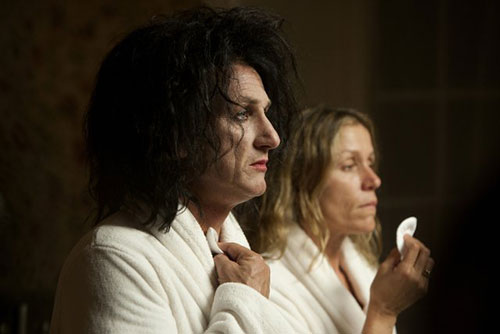 Anyone who's intrigued by where old goth rockers who survived the Eighties live out their days will be mildly entertained by Italian writer/director Paolo Sorrentino's darkly humorous film This Must Be the Place. Sorrentino takes quite a bit of creative license in this rambling and often disjointed tale of one fictional musician's struggles as he comes to term with personal tragedies and the lives he's touched through his music.
The multi-dimensional actor Sean Penn stars as Cheyenne, an aging goth rockstar living off his royalties on a vast estate in Dublin. His only companions are his confidante Mary (Eve Hewson), a 16-year-old Goth from a broken family, and his devoted and patient firefighter wife Jane (Frances McDormand). Cheyenne has been estranged from his family, not having spoken to his father in over 30 years. It is not until news of his father's failing health that he travels home to New Jersey and faces the real source of his pain -- the belief that his father never loved him. His father bequeathed his journals to Cheyenne, which include notes about his own obsession of tracking down the Nazi war criminal who humiliated him in a Jewish concentration camp. Cheyenne takes on his father's mission and embarks on a search across America to hunt down his father's tormentor, seeking guidance from Nazi hunter Mordecai Midler (Judd Hirsch) ... but what will he do when he finds him?
Performances in This Must Be the Place really hit the mark and give the movie its most genuine moments. Penn's characterization of Cheyenne includes a high-pitched whine and odd laugh that can be a bit unnerving at times but reflect his quirky personality. McDormand is endearing as the loving steadfast partner who truly understands her husband as he mistakes his boredom for depression. Hewson is perfect as the young Goth rocker, which should come as no surprise as her father is Irish rocker Bono. A cameo appearance by talented self-proclaimed introvert David Byrne is a wonderful but underused appearance, as are scenes with Harry Dean Stanton and Joyce Van Patten. Heinz Lieven has the most eloquent dialogue as Aloise Lange.
The art design and cinematography effectively capture the lonely days of Cheyenne from his Irish estate to the heartland of America. There are surreal moments peppered in, quick glimpses of absurdities reminiscent of a David Lynch film. The musical score is fitting, although the wonderful Talking Heads song "This Must Be The Place" is sadly overused.
Unfortunately the meandering narrative makes it difficult to remain engaged in This Must Be the Place, as it's difficult to understand what this film is meant to be. The first rather lengthy act sets up the character of Cheyenne -- his relationships, his eccentricities such as fear of flying and driving. The second act transitions to a road trip across America as Cheyenne meets a cast of characters while searching for the elusive Nazi. A subplot with Aloise Lange's daughter Rachel (Kerry Condon) adds to the messiness of the narrative, as Cheyenne journeys on towards his goal. The most dynamic moment of this film is Cheyenne's final encounter with Aloise Lange, who provides an insightful monologue. Unfortunately, the road to this pivotal moment takes so long that the audience will have lost their way -- and interest.
Despite the wonderful performances by the talented cast in This Must Be the Place, viewers should be forewarned that their talent isn't enough to engage audiences past the second act, let alone two hours.