Review: Silver Linings Playbook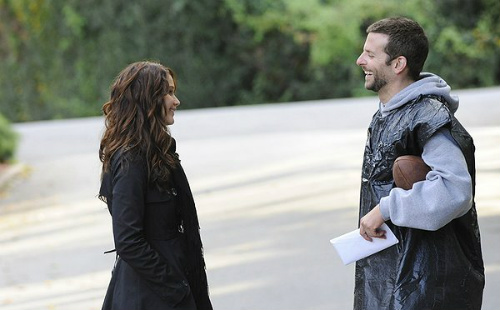 In Silver Linings Playbook, the latest film from David O. Russell, Pat (Bradley Cooper, The Hangover) has met a young woman named Tiffany (Jennifer Lawrence, The Hunger Games), the sister of a friend's wife. Only a few small things stand in the way of any romance between them: Tiffany's depression and feelings of guilt about her husband's death, Pat's continuing obsession with his estranged wife, and his recent diagnosis as bipolar and reluctance to take his meds. After Pat's mom Dolores (Jacki Weaver, Animal Kingdom) brings him home from a Baltimore institution, he does things like frustratedly reading through his teacher wife's high-school English class syllabus and exploding into his parents' bedroom at 4:00 in the morning to complain about the ending of A Farewell to Arms.
A restraining order has kept Pat from his wife Nikki since he attacked her lover, and Stevie Wonder's "My Cherie Amour" -- their wedding song -- has served as a trigger for him ever since. Tiffany makes a deal with him. She'll pass on a letter to Nikki if Pat promises to train and participate in a couples' dance competition Tiffany wants to enter. There is much more taking place in the movie as well ... I'll just say that it all works together marvelously. Although it's a movie about a couple dealing with mental health issues, Silver Linings Playbook consistently made me laugh while growing to care for Pat and Tiffany, as well as the supporting characters.
Each member of the cast -- no matter how limited the screen time -- turns in quality performances in Silver Linings Playbook. Robert De Niro is back in form here as Pat Sr., a bookie with dreams of setting up a cheesesteak restaurant who believes his younger son is the key to the Eagles winning football games. Pat's situation befuddles and worries his dad. Julia Stiles has some brief scenes as Tiffany's stern older sister, Veronica, married to Pat's best pal Ronnie (John Ortiz). And Chris Tucker, in his first big-screen outing since the Rush Hour trilogy ended five years ago, is wonderfully understated in his role as Danny, an affable fellow Pat met in the psychiatric institution.
Lawrence's Tiffany is gruffly unashamed yet endearing. Her multilayered performance here is stunning. At one point, she tells Pat that she is aware of her faults but loves herself anyway (it is worded better in the film, I promise) and I wanted to stand up and cheer. Cooper is also immersed in his character -- erratic and shaky at the start, his Pat is still able to build a support system of family, friends, cops and psychiatrists.
After watching Silver Linings Playbook, it's easy to understand how the movie won the audience award at the Austin Film Festival. Both Jette and I missed the screening at AFF to catch Mr. Cao Goes to Washington, a choice I don't regret. But I was glad to be able to see this one after all; the ballroom dancing scene left a happy grin on my face. Following any other movie, the ending here might seem cheesy. Given the darkness at the heart of David O. Russell's film, the moments of brightness do anything but detract.