Review: Life of Pi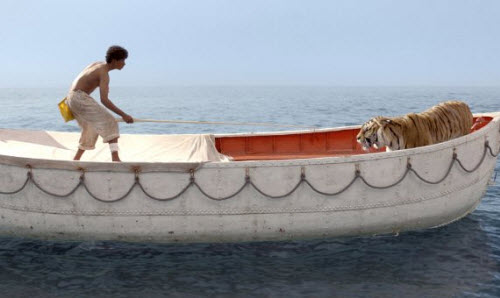 Sometimes the last 10 minutes can change your opinion of the entire movie. This happened to me with Life of Pi. Near the end of the film, another perspective is given on the story that's been unspooling onscreen, a perspective that reveals an underlying theme or message, which irritated me enough to cast a shadow on the rest of the movie.
Despite the revelation in the third act, Life of Pi is a gorgeous movie, successfully recounting a tale that could have easily veered into the ridiculous. Director Ang Lee has beautifully imagined this adaptation of the bestselling novel by Yann Martel, which I haven't read. And yet, while I was never bored, I never felt especially engaged in the story.
The title character, Pi, is a grown man (Irrfan Khan) recounting the main story in flashbacks. The story he tells is primarily about himself as a teenager (Suraj Sharma), when his family undertakes a trip from India to Canada to start a new life in a new country. A storm disrupts their sea travel and Pi finds himself on a lifeboat with a number of animals from his father's zoo, including a ferocious Bengal tiger.
The plot takes a little too long to get underway, with a lot of exposition about Pi's childhood -- how he got his nickname, how he first encountered the tiger in his father's zoo, his first romance, his feelings about religion, and so forth. A lot of this information factors in to his later adventures, but it dims the importance of the center story. On the other hand, if you are fonder of the third-act revelation than I am, and see the whole arc as a spiritual journey, the exposition makes more sense.
There is nothing about Life of Pi that is not high quality, from the performances to the cinematography to the score. I do think the 3D is unnecessary and in one scene, pulled me out of the film with inappropriate laughter. The experience will be just as sumptuous in two dimensions. But for me, the movie's themes and messages felt a little stale, and the flashback structure eliminated a certain amount of suspense. I simply couldn't connect with the characters and their situations. And I believe this is why I pulled back from the discoveries at the end of the film, and spent the last ten minutes trying not to sigh audibly.
One further note on Life of Pi: I've received press releases calling this an "all-audience" movie, which I assume means you can take your grandparents or your kids and everyone will enjoy it on some level. If you are thinking about taking children to the movie, bear in mind that there are violent and intense scenes involving animals attacking one another, a number of deaths of characters we've met and liked, and a genuinely scary scene involving the storm and the ship. Also, that third-act revelation I mentioned involves difficult, adult concepts that will probably warrant a post-movie discussion (which could be a good thing). On the other hand, there's no sex or nudity, and for many parents (and Hollywood), that makes it perfect for kids.