Review: Boy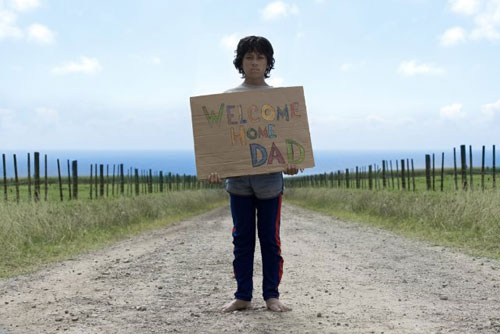 Several years ago I travelled through the South Island of New Zealand with a group of close friends and was amazed by the diversity and stark contrast between eco-regions. Sadly we didn't have time or plans to make it across to the North Island, but I vowed to go back especially to see the Maori inhabitants in their rural setting. The East Coast of the North Island has a reputation for unemployment, poverty and isolation. Academy Award nominee and writer/director Taika Waititi (Eagle vs. Shark, Two Cars, One Night) uses this location as the setting for the bittersweet comedy Boy, which has won several awards including an AFI Fest Audience Award and the Deutsches Kinderhilfswerk Grand Prix at the Berlin International Film Festival.
Boy weaves a complex narrative both whimsical and tragic, relying mostly on the imagination of two brothers -- 11-year-old Boy (James Rolleston) who exaggerates his life and confides his innermost secrets to a pet goat, and younger brother Rocky (Te Aho Aho Eketone-Whitu) who believes he has magic powers so strong that they were responsible for the death of their mother during his birth.
Set during 1984, Michael Jackson is the Pop King even in the remote location of Waihua Bay, New Zealand, where kids practice the moonwalk and wear the classic red-and-black jacket. When Gran has to leave for an extended period of time to Wellington, she leaves Boy in charge of his younger brother and cousins. When Boy and Rocky's father returns from jail, Boy is excited to spend time with his dad Alamein (Waititi). However, Alamein is not the hero that Boy had made up in his fantasies, but a petty criminal who has only returned to locate money that he'd buried while on the run from the law. Meanwhile Rocky is uncomfortable around the dad that he's never known, spending his time instead decorating his mother's grave with colorful drawings and questioning a local transient who scavenges items from driftwood piles.
Boy is a timeless tale of a son's devotion and pride to an absentee father, but Waititi uses the period of the 80s to enhance the story, whether incorporating Alamein's desired nickname "Shogun," or referencing the 1984 musical hit 'Poi E,' Thriller and E.T.: The Extraterrestrial. Waititi also strikes a pleasant balance between both dialogue and visual effects for comedy, with some visual gags sprinkled in so quickly that a well-earned chuckle may be missed.
The animation used in this film draws and engages viewers into Rocky's imagination. The cinematography and art design is well done, relying not on the often intimidating and stark New Zealand coastline but on mise en scene within Gran's house and garage. This allows the audience to focus on the strength and heart of the narrative.
The casting and direction is also top-notch -- not only Waititi himself as a father who doesn't know how to be a father, let alone a good one, but one of the best and realistic cast of young actors I can recall. Rolleston effectively portrays a young boy desperate for a father but knowing that he deserves more than a hoodlum. A pivotal moment of the film relies on Boy's realization of a memory that wasn't quite as he'd previously recalled, and Rolleston succeeds at demonstrating the anger and pain this young man felt. Eketone-Whitu's performance is understated while wide-eyed as he tries both to control and understand his surroundings. It's also worth mentioning that the youngest of the supporting cast while not having dialogue are incorporated so well that one wonders what direction was provided by Waititi. Whatever it was, it works brilliantly.
I highly recommend seeing Boy in a theater soon. Although the movie is told from a young boy's perspective, some of the content and language may be less suitable for young viewers. Also note that Rolleston's accent can be difficult at times to understand, but it is well worth the experience.