AFF Review: You Hurt My Feelings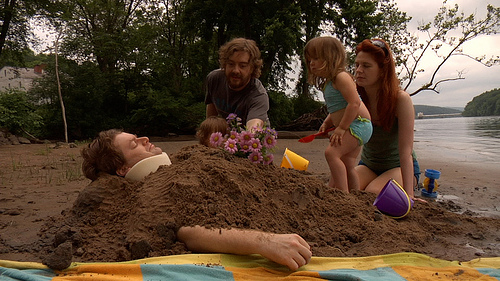 "You hurt my feelings," a small girl tells her male nanny (manny?) in the opening segment of this slice-of-life, independent film. John (John Merriman) seems an odd choice of a babysitter; he passively lets the kids climb all over him and tends to stare out into space and lose himself in contemplation. What is he contemplating? Why his ex-girlfriend Courtney (Courtney Davis) would break up with him to date a guy named Macon (Macon Blair) who admits that he shares more than a passing resemblance to Johnny.
You Hurt My Feelings moves with the seasons, slowly letting us peek into elements of John's personal life. One of the suprising aspects of the movie is how like a silent film it seems. There are scenes where John and Courtney don't speak aloud, but their motions and facial expressions speak for them. Unlike a silent film, however, the only soundtrack to this movie is composed of incidental noises and songs.
The second surprise is that the little girls almost steal the movie. Toddler Lily is the most talkative character in You Hurt My Feelings. She narrates her actions as she pours a drip of juice in John's elbow and she makes up her own song while John takes her and her baby sister on a sort of field trip. I am amazed the actors were able to stay in character and not crack up at some of her statements.
Lily and sister Violet are the real-life daughters of writer/director Steve Collins (Gretchen). The camerawork in his film is delicate, yet the Easter scene, with the girls hunting for eggs, is captured in a such a way that it seems like we are watching a (well-made) home movie.
Because You Hurt My Feelings is structured with the seasons, and since there's not a whole heck of a lot of dialogue, some things are left up to the audience to figure out. This isn't too much of a negative, but a tiny bit more exposition wouldn't hurt. There are also a couple of scenes that seem to last a beat or so too long; these would be less draggy with a soundtrack.
An only slightly related note: As I watched the movie (and even as I write this review), this Flight of the Conchords song keeps running through my head.
Austin connections: Merriman lives in Austin; Collins, Davis and Blair are all former Austinites, as is producer Anish Savjani.
You also can read Jenn Brown's interviews with John Merriman and with Steve Collins.
You Hurt My Feelings plays AFF one more time: Tuesday, October 25 at 10:15 pm at the Texas Spirit Theater.