AFF 2011 Interview: John Merriman, 'You Hurt My Feelings'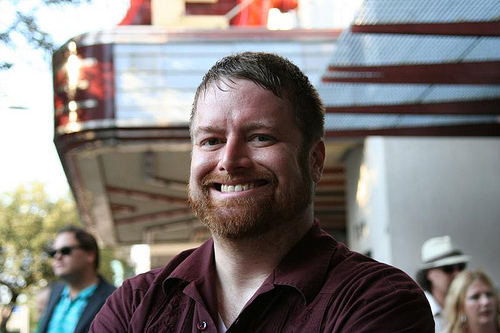 Last year the Slackerwood gang declared it the Year of (Chris) Doubek, seeing the local actor everywhere in numerous films. This year it seems to be the Year of Merriman, even if several of the movies in which he appears won't hit screens until next year.
If you played the six-degree game, you'd have plenty of degrees left over to connect to John Merriman in the Austin and indie film scene. He's acted in at least six feature films in the last year, including You Hurt My Feelings and An Ordinary Family, which are playing Austin Film Festival this week. He's also in the cast of the upcoming Pictures of Superheroes, Cinema Six, The Man from Orlando and Loves Her Gun, all shot locally this year. Merriman has been in countless shorts including his own Sleep Study (co-written and co-directed by Kerri Lendo), which played AFF last year, and Scott Rice's (student) Oscar-nominated short Perils in Nude Modeling. I'm losing breath simply writing all that and it's just the highlights.
Over some lunch at Casita Tacos, John Merriman recalls filming You Hurt My Feelings up in Connecticut. He's worked with director (and former Austinite) Steve Collins on six different projects including Gretchen. He's also worked with co-star Courtney Davis on nine different films, including sharing the helm and writing credits on the 2002 feature My Name is Buttons.
You Hurt My Feelings is the tale of a man (Merriman) who works as a nanny to prove to his ex (Davis) that he's responsible enough to have children. Shot over the course of a year with distinct seasons marking the passage of time, You Hurt My Feelings may sound like an emo-comedy. Instead it's a subtle exploration of sublimated emotions and growth. It also features quite a few Merrimans in the cast, including John's sister Carolyn as his cousin (as well as production designer). His parents co-star as -- you guessed it -- his parents.
"It was truly an out of body experience watching that," Merriman says. "It was so naturalistic when it's just me and my parents, just cooking breakfast, something that's happened millions of times ... suddenly I'm watching from the perspective of a fly on a wall."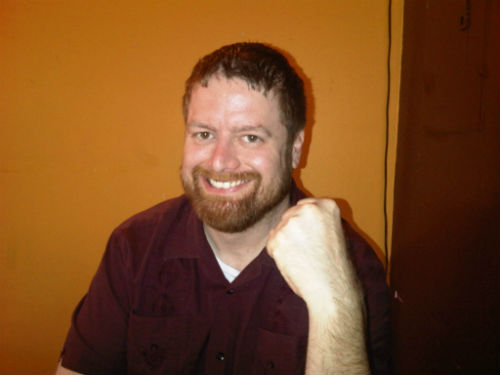 Merriman also broke W.C. Fields' cardinal rule of never working with children or animals. In the opening scene of You Hurt My Feelings, he's caring for two small children and a dog and many of his scenes include the girls, who are portrayed by Collins' own daughters Lily and Violet.
"The older one (Lily) is a little aware of the camera ... it was fun, it was exhausting. My joke with Steve was that it was all just a sham to get me to watch his kids. Lily was an amazing actor. Very method. We shot the beginning as an experiment, as a short. One of the things we shot that wasn't used was Courtney as a single mom. They had to walk up to a library and Lily had to cry becaue the library was closed, and she would really cry intensely. But then they said 'OK, cut, we're not doing the movie anymore, it was just pretend' and she would laugh. And then they'd do another take and she'd full-on cry. It was amazing."
Merriman is no stranger to Austin Film Festival; he started screening films for the fest back in the era of Allen Odom and B.J. Burrow. He also did some volunteering during AFF. "In 2001, I picked Jonathan Silverman up at the airport and we stopped for tacos. He was late to his panel."
Then in 2004, he became the AFF documentary film programmer.
"I mentioned to Kelly Williams that I was looking for work and he told me that they were looking to hire a documentary programmer and I dropped off my resume later that day. I started a few days later. I started off as the documentary programmer the first year they screened documentaries.
"I remember there was a lot of talk about whether or not they should include docs, as they were primarily focused on screenwriting at the time. We decided to bring them in and place our focus on the story. We were less interested in talking heads stuff and more interested in innovations in storytelling within the form. After a few years of doing that, I started programming some of the Marquee Screenings as well, eventually doing that exclusively. I was also the Membership Director for a couple of years."
Merriman left AFF in 2009, but his tenure ended on a high note, including hosting the Q&A of Synecdoche, New York with writer/director Charlie Kaufman at AFF 2008. It was a memorable Q&A, where Kaufman himself complimenting Merriman more than once on his insightful questions. Not that Merriman will tell you himself; he's a pretty laid-back guy. Merriman describes it a highlight of his time with AFF, only paralleled by a Mitch Hedberg tribute at Cap City comedy club with Hedberg's family and friends.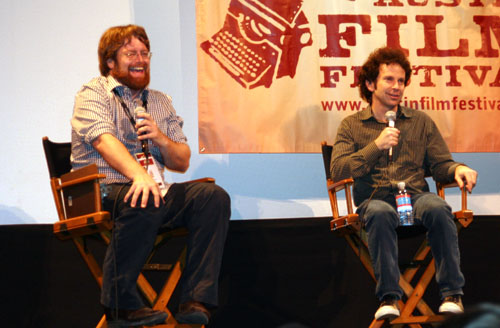 [Photo credit: John Merriman at the Slacker 2011 premiere by Jette Kernion; John Merriman at Casita Tacos by Jenn Brown; John Merriman and Charlie Kaufman at AFF 2008, by Jette Kernion. All rights reserved.]