AFF 2011 Interview: Steve Collins, 'You Hurt My Feelings'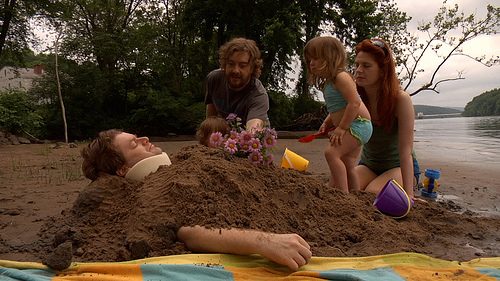 The 18th Austin Film Festival is almost here. To help celebrate all the locally connected movies at this year's fest, we've reached out to a number of filmmakers to find out about their Austin and Texas-tied films screening at AFF, and to hear about what they're looking forward to doing during the festival.
Former Austinite Steve Collins has written and directed You Hurt My Feelings, which had its world premiere at Los Angeles Film Festival this summer. You may have seen his last feature, Gretchen, which also starred Courtney Davis and John Merriman. Collins may be living in Connecticut these days but you can tell he sure misses Austin. And he has some ideas about the Stevie Ray Vaughan statue.
Slackerwood: Describe your film for us, in a quick and dirty paragraph.
Steve Collins: It's about a damaged guy who uses his job as a nanny to prove to an ex-girlfriend that he's grown up and ready to have a relationship. I never can describe it without it sounding like Mrs. Doubtfire. I wish I could say fans of Mrs. Doubtfire would like it -- maybe they would --but its really a love story about people who are so locked inside themselves they can't communicate. The film uses the beauty of children and the natural world as a beacon of light that draws the characters out of their shell towards love. And Robin Williams plays a man who is slowly turning into a tiny bearded robot.
Tell us one thing about this film that is going to make it impossible for people to resist seeing it at AFF?
It's funnier than you'd think for a drama about emotional problems, and it could fix your life!
How long have you been working on You Hurt My Feelings?
About two and a half years. It started as a short that we fell in love with and decided to expand. It takes place over four seasons in Connecticut so the shoot took a full year, and then the edit took a little longer than normal. I teach film so I have to edit when I can.
What are the Austin connections, if any?
Most of the cast and crew are from my film Gretchen, which we made while I was living in Austin. I lived in Austin for 7 years and consider it my natural habitat. Lead actor John Merriman is an Austin institution. They should replace the Stevie Ray Vaughan statue with him or maybe out of respect, a tiny poncho-ed version of him holding Stevie's hand.
Courtney Davis is also in the film; she's in LA now, but her heart is in the Stevie Ray Vaughan statue. The third lead, Macon Blair, married Austin actress Lee Eddy and they're working their way back to Austin. The production designer is Carolyn Merriman, the producer is Anish Savjani, both ex-Austinites, and the film was mixed by Austin's Chris Keyland at Keyland Sound. And lastly, it features my then three-year-old daughter Lily, who was born in a birthing center in Austin.
What are your future plans for this movie?
We're still doing festivals till the summer, have a couple of offers to do small one-off screenings, and are in the process of wrapping up a small digital distribution deal.
What one place to visit/eat/drink would you recommend to out-of-towners here for AFF?
I live in Connecticut so I miss BBQ, I don't understand why someone can't just learn how to cook ribs and then drive to Connecticut and cook ribs for us. Seems like a simple business plan. Is it that we don't have the right kind of cow? I've seen cows up here. I miss the ribs at Artz Rib House.
What are you looking forward to doing during AFF?
Seeing old friends and seeing if my tender, delicate film about sad people and children goes over in the town that had the premiere of Human Centipede 2. You Hurt my Feelings is a kind tonic for emotional trauma, so maybe it's a perfect fit.
You Hurt My Feelings plays Austin Film Festival on Thursday, October 20 at 9:30 pm at the Texas Spirit Theater (Texas State History Museum), with an encore on Tuesday, October 25 at 10:15 pm at the Texas Spirit Theater. Read my interview with John Merriman for more interesting details about the movie.