Los Angeles Film Festival Loves Austin (and John Merriman)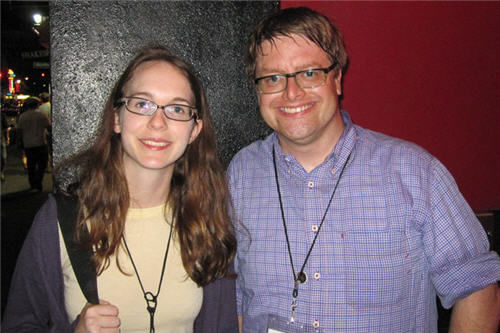 The Los Angeles Film Festival has a heavy dose of Austin in its lineup this year. Not only that, but I've counted at least three films involving local actor John Merriman (pictured above with Kerri Lendo at AFF 2010). Is there some sort of conspiracy afoot? Is he becoming the Austin version of Dick Miller? Along with the films playing at LAFF, I've been on set visits this year for two upcoming movies with Merriman in them, and he was in one of the SXSW bumpers this year. I think someone needs to look into this before something tragic -- or very funny -- happens.
Merriman aside, here are the Austin-connected features and shorts popping up all over LAFF in June:
Jeremy Messersmith - Tatooine from Eric Power on Vimeo.
Another Austin short featured at LAFF is Sleep Study, which Jenn Brown enjoyed at Austin Film Festival last year. The comedy was written and directed by Kerri Lendo and -- no points for guessing -- John Merriman, and the title is fairly self-explanatory. Sleep Study just aired on KLRU as part of the third episode of AFF's On Story series, which means you can watch the film online.
[Photo credit: Kerri Lendo and John Merriman at AFF 2010, by Jenn Brown]