SXSW Review: Natural Selection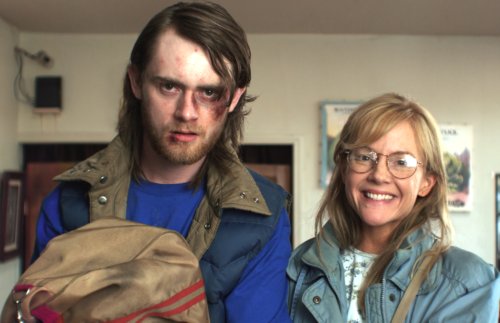 As cliched as it may sound, the "must-see" movie at SXSW 2011 is Natural Selection, a joyful bittersweet story filmed in Smithville, Texas. From the opening moment, writer/director Robbie Pickering pulls viewers in for a fun and passionate ride from the pinnacle of conservative Christianity to the lows of the wrong side of the law.
The film focuses on Linda White (Rachael Harris), a barren and lonely Christian housewife in her 40s, who leads a sheltered existence in suburban Texas. Stringent religious convictions forbid Linda and her husband Abe (John Diehl) from copulating without the intent of procreating, resulting in an asexual marriage that has left Linda frustrated, lonely and full of shame. To compensate, she lives her life for everyone but herself.
After Abe suffers a stroke, Linda discovers that he has been keeping a secret -- donating to a sperm bank for over 20 years. From his hospital bed he asks her to find his 23-year-old biological son Raymond who is living in Florida. Linda sets off on a quixotic journey to find Raymond (Matt O'Leary) and bring him back before her husband passes away. Along the way, she develops a relationship with the troubled Raymond as they share their intimate secrets, allowing her to come to terms with herself and thereby discovering her own path.
The casting of Natural Selection is brilliant, with Harris delivering a solid performance of a woman who has never known how to say no -- whether to her husband, her overbearing shrewish sister Sheila (Gayland Williams), or her pastor/brother in-law Peter (Jon Gries) who's secretly in love with Linda. The genuine chemistry between Harris and O'Leary perfectly complements the naivete of Linda and the not quite street smarts of Raymond, engaging the audience in their story. Supporting actors Gries, Williams and Diehl hit the mark beautifully with their performances -- I found myself audibly responding to some of Sheila's snarky remarks to Linda about children being the most blessed gift.
Pickering's writing strikes a wonderful balance between the sadness and loneliness in Linda and Abe's marriage to the humor in Linda and Raymond's experiences on the road. Especially remarkable are the choices Linda makes -- I unashamedly admit that the ending was not what I expected, and was quite pleased with the outcome. Natural Selection art direction and cinematography was top-notch, but the makeup and hair style is well-worth mentioning for this film. The special effects/makeup and hair stylists team led by Wendy Sanders did amazing work on Harris and O'Leary, so much that I was anxiously awaiting the moment when Raymond would finally wash his hair or clean his wounds.
Natural Selection is a wonderful journey with a woman who finally learns how to cope in her own way and decide for herself what God's plan is, rather than allow her family to make decisions for her. I highly recommend seeing this film at the earliest opportunity.
Natural Selection is Pickering's feature film directorial debut -- in 2007, the screenplay was selected from thousands of entries to take part in Film Independent's Screenwriter's Lab and Director's Lab. The script also made it onto the Hollywood Black List of notable unproduced screenplays, along with such scripts as Superbad, 3:10 to Yuma, and There Will Be Blood. Last night, Natural Selection swept the SXSW 2011 Awards, including both the jury and audience awards for narrative features.
You can see Natural Selection on Friday, March 18 at 4 pm at the State Theatre -- since it won the juried narrative feature award, it should also play Saturday at 6:30 pm at the Arbor.
Austin Connections: Filmed in Smithville, Texas. Many of the crew including special effects/key makeup artist and hair stylist Wendy Sanders are from Austin.