SXSW 2010 Guide: Where to Eat Around Film-Fest Venues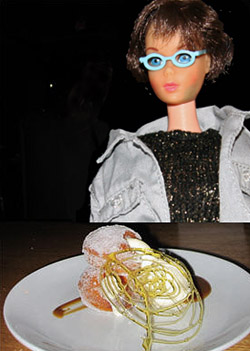 Despite the risk of creating lines at the places I want to eat at during SXSW, I'm gonna share some secrets with you. Austin has many more restaurants than the ones you automatically see while treading the usual paths between venues. And with a little extra effort, you can enjoy some really great (maybe even healthful) meals.
We're not going to recreate the resources at Yelp, Urban Spoon, Dishola and the Austin Chronicle, which we recommend as handy resources on local eateries and more. But you probably don't have time to search through all that, and you might not even know where to find great restaurants in town. Here are some possibilities to explore near the SXSW 2010 film festival venues
Near Alamo Drafthouse on South Lamar
You'll find plenty of dining around the theater/restaurant if you decide you just don't want another Alamo meal. But let me point out what you get at Alamo Drafthouse, as I know there are a few unititiated souls reading this. It's not just a theater. It's got table service and a full menu, as well as beer and wine, and at the Ritz you can get cocktails. Think pub food gone wild, with specials like the Kick-Ass Tofu Sandwich and Lamb of the Gods, as well as classics like the Royale With Cheese Burger and Porky's pepperoni pizza. I'm still partial to the Matango pizza, which started as a special last SXSW. Brunch specials are available on weekends, and gluten-free and vegetarian items are marked on the menu.
Across the street and a few steps south is a little food trailer park, with Odd Duck and Gourdoughs. Gourdoughs offers donuts that eat like a meal and they are open late; talk to some locals to find out just how tasty they are. OddDuck is only open Tuesdays through Saturday starting at 5 pm, but they are farm-to-trailer, inexpensive and really good. Portions aren't huge, but they are filling.
If you haven't been around Austin since last SXSW, Tim and Karrie League's latest gold mine, The Highball, is just a few yards away from the Alamo, with an upscale diner menu and lots of beverage options, plus bowling, karaoke and skeeball. It will likely be very crowded during the fest, so be warned. If you're driving, Olivia is just a few blocks south and is now open for lunch on Fridays and Saturdays, plus offers a delicious Sunday brunch. Jette liked her bbq shrimp and gouda grits when we talked with Geoff Marslett about Mars, he was quite taken with his brioche french toast, and I was more than full with the Olivia Benedict. You might want to make reservations for brunch, though (just sayin').
Near Alamo Drafthouse at the Ritz
The area near Ritz offers lots of options, including pizza and sandwich shops. If you want something a bit more upscale, I'm in love with Parkside Cafe, and their appetizers alone will hit the spot. They have Wednesday oyster specials, and quite an impressive raw bar. I have had nothing less than stellar food there every single time. Some dishes are so good you need to collect yourself. Film Fest Geek Barbie is enjoying their dessert donut with maple ice cream in the photo at the top.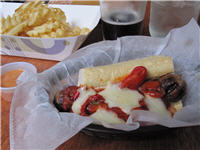 Another popular joint is by the former Alamo downtown location: Frank is a purveyor of meat, particularly the tubular kind (pictured at right). The upside is tasty meats, the downside is that this is not a place to go to hold a conversation -- the acoustics are so bad and the music so loud.
Near Austin Convention Center

ACC is fairly close to Alamo Ritz and its surrounding dining options, but sometimes you don't want to go too far for food. Two restaurants open last year are now closed, but you can find Piranha Killer Sushi and Max's Wine Dive -- neither are all that cheap, if you're counting your pennies. Debbie recommends Progress Coffee for a bagel and free wifi. Habana has a location on Sixth not far from ACC, and they have great Cuban/Puerto Rican food (their mojo may put you in a coma).
Near the Paramount and Hideout
Debbie recommends Thai Passion, and notes that the lunch specials are super quick. I've had their Pad Thai for dinner, and it was great with fast service. It's off Congress, so it's not an obvious choice for the sleep deprived festival goers. Jette keeps swearing by the happy-hour bar menu on weekdays at Roaring Fork in the Stephen F. Austin hotel, where you can get a fairly healthy salad and chicken tortilla soup. Jette also notes that the lunch sandwiches at Little City are excellent. There's also a new El Chilito open for breakfast and lunch (sorry guys, no more free margaritas since they changed over from El Chile).
Up and Down the Avenues

If you want to explore and still find a place to eat, remember these streets: South Congress, South First, South Lamar (and lower North), Barton Springs, and 2nd St. There are so many good eateries of all types, so you can take your pick, or use the online resources listed at the top of this guide to help you find just what you're looking for.
Jette points out that the 24 Diner on North Lamar near Whole Foods is a good alternative to Kerbey Lane for late-night munchies. Not to dismiss Kerbey Lane, but it gets packed when the bars close down, as does Katz's on Sixth Street. Jette specifically recommends the chicken-and-waffles and mac-and-cheese, but also mentions the the Charred Bitters salad for a little low-fat adventure. It is walking distance, but only if you have time to spare.
Debbie points out that Green Mesquite is a good barbecue option on Barton Springs just a few blocks off South Lamar (and they have free wi-fi, too).
La Condesa on 2nd is not only a semifinalist for James Beard Foundation's 2010 Best New Restaurant award, it's a featured location in Robert Rodriguez's upcoming film Machete. And even better, it's very convenient to the #3 bus going to Alamo Lamar (but not back from, sorry).
Of Tacos and Trailers
Austin is in the midst of a curious food renaissance, and most of it is coming out of the most unexpected places: trailers and trucks. More "trailer food parks" are cropping every week. And we're not talking your daddy's disgusting food trucks, we're talking good stuff, including "farm-to-trailer" fresh and everything from classic tacos and kebabs to sushi to crepes and other desserts. You'll find them mostly on the "south" streets and Barton Springs.
If tacos are your thing, you'll be happy in Austin. But I'll leave that to the Taco Mafia at the Taco Journalism, home of the Austin Taco Map, which includes all things Taco related in town. This isn't just the Tex-Mex stuff you northerners consider "taco," but some real Mexican-style street food.
Barbecue
The most contentious topic among Austinites, barbecue is a very personal thing. While Smitty's may be considered the best in the state, you can find good options all around town. Debbie recommends Green Mesquite, and several film bloggers have turned Mann's Smokehouse BBQ into a regular haunt. I've recently discovered Franklin Barbecue, which is like crack; the downside is they're only open Wed-Sun from 11 am until they're out, and they start selling out very quickly. But I've heard from a good source at Franklin that they will have extra smokers during SXSW to deal with the demand.
Vegan and Vegetarian

I'm an unrepentant omnivore, but in a state known to scoff at the sides when it comes to barbecue, I'm a veg rights activist in comparison. And by far the most common request is for vegan and vegetarian options. There are only so many times people can go to Whole Foods, Veggie Heaven and Mr. Natural. A friend recommends the veggie-friendly breakfasts at Arturo's Underground Cafe, which is off the beaten path, but close enough that those driving to downtown may find it worth the trip. Debbie's foodie sources recommend Koriente, Leaf, and Lulu B's. Twitter user @veganLazySmurf recently updated her 10 vegan austin faves, which should help those looking for meatless options, and VegOutAustin has some 2009 SXSW tips.

Dietary Restrictions

I don't envy anyone who has a restricted diet during SXSW because so much good, fattening food is everywhere. The Alamo Drafthouses have a full menu that indicates gluten-free and vegetarian options. Alamo Chef John Bullington talked to me about special requests, and says most chefs are okay with that, they're used to it. Understand that not all requests can be fulfilled and it may delay your order.
Late Night

24 Diner is recommended by Jette, and Debbie adds that Best Wurst is so good it converted her to the joys of sausage. The sold standby of Kerbey Lane is still an option but it's very popular. You also might consider Katz's Deli or in a pinch, the IHOP at I-35 at Cesar Chavez.
Sunday Dining
Downtown is a little dead for restaurants, so if Cozzolli's isn't your thing, you may want to verify what's open before making plans to dine. Jette notes that Pita Pit, right next to The Hideout, is open on Sundays and has pretty good and inexpensive offerings. Sometimes they even have live music during SXSW (as shown at right).
Freebies
If you're a badgeholder, SXSW has a number of free options for after-parties, barbecues and breakfast tacos. I can't keep track of them all, but keep your eyes open. Addie Broyles's Relish Austin blog has a list of food-related events at the fest.
Whatever your food appetites, Austin has something to make your tastebuds happy, and not necessarily hurt your wallet.
If you have suggestions, let us know. And if you go to any of these places, let 'em know Slackerwood sent ya.