Texas is Everywhere: Florence Bates in 'Rebecca'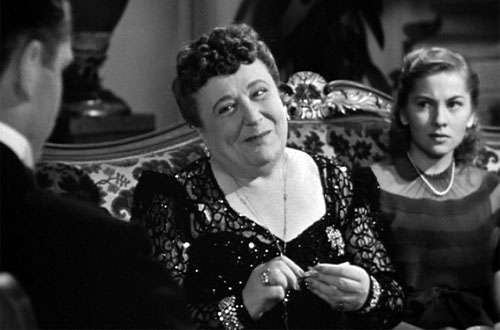 I participated in this week's Criticwire Survey by writing about one of my favorite Alfred Hitchcock films, Rebecca. On a whim, I was looking over the cast list and clicked the name of the actress who played Mrs. Van Hopper, the unforgettably crass American social climber at the beginning of the movie. The actress's name was Florence Bates, and what I expected to find was a long list of credits starting in the early 1930s, or perhaps even the silent era, in which she'd played imperious dowagers and fussy schoolteachers and ambitious wives.
I got the kind of surprise that felt right at home regarding the Daphne Du Maurier novel that started this whole chain of thought. First, I learned that Bates was a native Texan. But that was just the beginning.
Through various internet rabbit holes I eventually found an article about Florence Bates from Handbook of Texas Online, which is published by the Texas State Historical Association. Please go read the article -- this biography is not what you'd expect from a character actress in 1940s Hollywood.
First of all, her real name wasn't Florence Bates -- she was Florence Rabe Jacoby, born and raised in San Antonio. She graduated from The University of Texas at Austin with a degree in mathematics, which she taught ... but later became a lawyer, one of the first female lawyers in Texas. She also ran an antique business that led her to travel in Europe and Asia (it seems she knew several languages), and ran a bakery in Los Angeles with her husband. She led an extremely fascinating life before she ever appeared on a movie theater screen.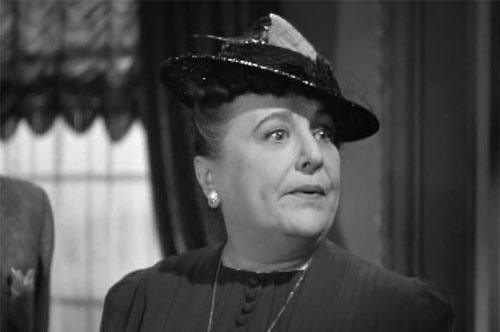 Rebecca, released in 1940, gave Florence Bates (then in her early fifties) her first onscreen credit. She took the stage name "Florence Bates" because her first theatrical role, a success, had been Miss Bates in a Pasadena Playhouse production of Emma. She did indeed have a long career playing titled snobs, landladies, mothers-in-law and similar character roles, but all after Rebecca. You might have seen her in On the Town, I Remember Mama, Kitty Foyle, The Secret Life of Walter Mitty ... even The Diary of a Chambermaid. She worked with Hitchcock, Ernst Lubitsch (I saw Cluny Brown a couple of weeks ago and completely overlooked her), Joseph L. Mankiewicz, Jean Renoir ... and William Castle.
Bates died in 1954 in Southern California. Who would have guessed the actress who played so many countesses and duchesses was a lawyer from San Antonio? I love to find Austin and Texas connections in the most surprising movies. And now I wish someone would make a movie about Florence Bates herself.