Be an Extra in 'Grow Up, Tony Phillips'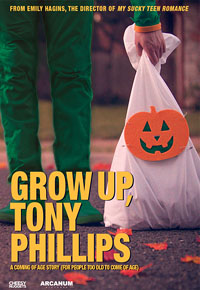 You might have noticed a sad lack of reviews here recently from our contributor J.C. De Leon. That's because he's busy working as an associate producer on the movie Grow Up, Tony Phillips, the latest feature from Austin filmmaker Emily Hagins (My Sucky Teen Romance). The film shoot started Monday and is keeping J.C. pretty busy.
You too can be a part of this movie if you like ... onscreen as an extra. J.C. tells me that Grow Up, Tony Phillips will be filming the Friday/weekend after Thanksgiving at Eastside Memorial High School (1012 Arthur Stiles Road, not far from 183/Airport). They need young-ish extras who can portray teenagers realistically, and older extras who can portray teachers and chaperones, for scenes set at a high-school dance.
If you're interested in being an extra, contact J.C. at jc [at] arcanumpictures [dot] com and he'll give you the details. I wish we could get all the Slackerwood contributors at the shoot to hang out in a corner and pretend to be cranky chaperones. The kind who keep flasks hidden for their personal use. Considering the number of our contributors who were extras in My Sucky Teen Romance, I suspect you'll see a couple of us in this film too.
Grow Up, Tony Phillips is a coming-of-age movie set at Halloween. The cast includes AJ Bowen, Barbara Crampton, and local actor Byron Brown (whom I've enjoyed watching in four movies this year). My Sucky Teen Romance actors Tony Vespe and Devin Bonnee also return for this feature. Last month, the filmmakers raised $80,000 on Kickstarter to fund production costs. Visit the Kickstarter page for more details about the cast, crew and story.