Movies This Week: November 2-8, 2012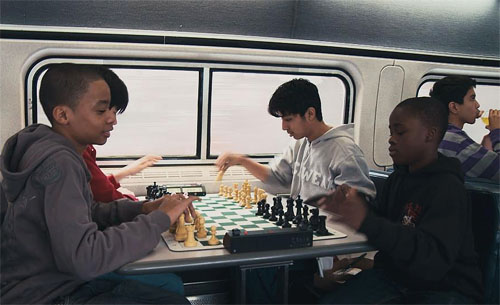 It's my birthday today, which means naturally I'm looking at movie listings for tonight and tomorrow. Should I finally see Argo, convince my husband to watch Cloud Atlas with me or give Wreck-It Ralph a chance? After reading Chale's Austin Polish Film Festival previews (parts one and two), I'm tempted to spend the weekend at The Marchesa. Otherwise, tonight's an unusually poor night for special screenings unless I want to go to a Dumb and Dumber quote-along, and considering I walked out of that movie when I saw it in a theater I'll pass. Besides, my husband keeps promising he's taking me to a fancy dinner at McDonald's.
On Saturday and Sunday, Alamo Ritz brings back its 70mm series with Cleopatra, that gorgeous flop with Elizabeth Taylor in the title role. And while I'm not a big cocktail girl, I do dearly love A Fish Called Wanda, which Alamo is showing as part of their Cinema Cocktail series on Sunday and Wednesday at the Slaughter theater. Slaughter is also screening Network on Tuesday (appropriately) and Thursday.
Austin Film Society is hosting three movies from Houston filmmaker Jonathan Caouette, who'll be in Austin to present them. On Monday, you can see Tarnation and All Tomorrow's Parties, and on Wednesday, Walk Away Renee preceded by his short All Flowers in Time.
Of course Tuesday's Election Day, and I'm planning to spend it the same way I did in 2004 and 2008: watching a delightful comedy from the 30s or 40s as part of an AFS Essential Cinema series. This time it's Cluny Brown, the last in the series on later Ernst Lubitsch films. It's way more enjoyable than fussing around the TV looking at early polling results and also nicely escapist.
Movies We've Seen:
Brooklyn Castle -- I saw this documentary at Dallas International Film Festival this year and can't urge you enough to check it out. It's about a Brooklyn middle school where the kids all think playing chess is pretty cool, and how that affects the school and the students. And it's also a strong argument for funding schools' extracurricular activities. You can bring your kids, too. (Arbor)
Flight -- The latest Robert Zemeckis movie, starring Denzel Washington, is a thriller about -- no wait, it's a drama about alcoholism. Elizabeth fell for the trailer's bait-and-switch and says in her review, "the melodrama and forced emotion of it all just left me cold." (wide)
Keep the Lights On -- Ira Sachs has co-written this drama, set in 1997, about two men (one closeted) trying to build a relationship together. Look for Jordan's review this weekend. (Violet Crown)
Wreck-It Ralph -- So far I've heard nothing but praise for this animated film about the bad guy in a videogame who wants to be the hero, with the title character voiced by John C. Reilly. Mike tells me it's one of his favorite animated movies this year, with "a script that's as smart as it is fun." Look for his review this weekend. Rich Moore also directed one of my favorite episodes of The Simpsons so I feel I really can't miss this one. Preceded by the short Paperman, which I have seen and can recommend. (wide)
Other Movies Opening in Austin:
The Man with the Iron Fists -- I heard some people at my gym refer to "the Tarantino movie coming out this week" and was confused, so to clarify: Quentin Tarantino is only "presenting" this martial-arts action film, which was directed by RZA (who also stars) and co-written by RZA and Eli Roth. It also stars Lucy Liu and Russell Crowe. It didn't screen for critics in Austin.