AFS is Bringing Me The Lubitsch Touch, Oh Yes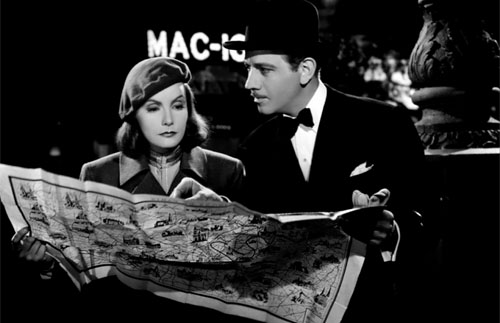 There are so many reasons to love October in Austin. The weather can be lovely, you can bring out long sleeves and perhaps even jackets, there are film festivals galore, and at the end you get Halloween. For me, every year I look forward to the Austin Film Society's Essential Cinema series in October. If you've read Slackerwood for awhile you know this article has nothing to do with our relationship with AFS ... I really do get giddy about the series every year around this time. This year, with a title like "Late I Have Loved Thee: Latter Lubitsch," you know I'm bouncing around the room.
Why? Because AFS brings out a bunch of glorious classic Hollywood movies that I've been longing to see, or see again, or see in a theater since my only experience with them has been on a worn-out VHS tape. The selections often include great films from William Wyler or Preston Sturges or Billy Wilder. I realize these are not as culturally diverse as the many other fine Essential Cinema series that AFS programmer Chale Nafus curates throughout the year, but what can I say? My heart belongs to cynical 1930s screenwriters.
Also, the movies usually screen on Tuesday nights, and I have to say that I prefer watching a delightful witty comedy on Election Night to sitting around frowning at TV commentators while awaiting polling results. If You Could Only Cook was a lovely balm in 2004, and Nothing Sacred was perfect in 2008. This year, Cluny Brown is screening on November 6 -- a movie I haven't seen -- and I look forward to watching it instead of CNN.
But let me slow down and back up a little for those of you who are looking confused or impatient. Ernst Lubitsch directed many fine and frothy comedies from the 1910s through the 1940s. His films have a type of sexual sophistication in them that shines through despite the Hollywood Production Code, and which were known as "The Lubitsch Touch." Design for Living is essentially about a menage a trois, and it was released in 1933. But you are probably more familiar with Ninotchka or To Be or Not To Be ... two films that will be included in the AFS series this month. I think my favorite is Trouble in Paradise, but I haven't seen them all yet.
The five films in the AFS series, curated by Raoul Hernandez, are all from the later years of Lubitsch's filmmaking. Two are scripted by Billy Wilder and Charles Brackett; one is co-scripted by Donald Odgen Stewart, one of the Algonquin Round Table members (who also adapted The Philadelphia Story and Holiday). The stars include Claudette Colbert, Greta Garbo, Carole Lombard and Merle Oberon. One movie has never been available on home video; at least one other was only available on VHS. Can you see why I'm so thrilled?
Here's the lineup. All movies are on Tuesday nights at 7 pm at Alamo Drafthouse on South Lamar -- you can buy tickets in advance through the AFS site, or hope some are available at the door.