Get Passes to 'Sleepwalk with Me' Sneak Preview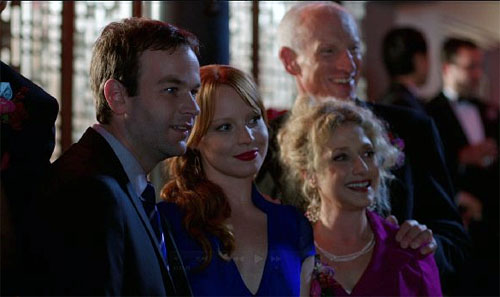 Slackerwood is giving you the chance to see Sleepwalk with Me next week, before it opens in Austin theaters ... and at no cost. The debut directorial effort from comedian Mike Birbiglia (co-directed with Seth Barrish) will have a preview screening on Monday, August 27, at 7:00 pm at Violet Crown Cinema. We have a limited number of admit-two "e-tickets" to give away -- details on how to get one are after the jump.
An important note about the e-tickets: This is a first-come, first-served pass and seating is not guaranteed. Remember, this is Violet Crown and the theaters are not exactly huge. If you've been to preview screenings, you know that more tickets are given out than there are seats, so arrive early to stake out a good spot in line. Fortunately Violet Crown has drinks and snacks, so hopefully the wait won't be too uncomfortable. They will also validate your parking ticket if you park in their garage, so you don't have to pay for that either.
None of us at Slackerwood has seen Sleepwalk with Me yet -- somehow we missed its SXSW screenings. It's an autobiographical story about the relationship between Birbiglia's commitment-averse character Matt and his girlfriend Abbie, played by Lauren Ambrose (Six Feet Under), while Matt deals with the sleep disorder referenced in the title.
Don Simpson of Smells Like Screen Spirit caught the movie at SXSW and says in his review, "Occasionally, Matt self-referentially addresses the camera (and, therefore, us) directly; other times he provides voiceover narration — both techniques carry the heavy weight of extremely high rates of failure, but Birbiglia pulls them off with the confidence and verve of Woody Allen (circa Annie Hall) and John Cusack (circa Say Anything)." And local critic William Goss, reviewing for The Playlist, says, "Birbiglia's droll, clumsy delivery works just as well on screen as it does on stage."
Here's what you have to do to get a pass: Use the Slackerwood contact form to send me a message with your name and email address. I'll email you back with the pass, which is a PDF that you should print and bring to the screening. No crazy contest rules, but of course we'd appreciate it if you spread the word on Twitter or Facebook. And regardless of whether you go to the preview, don't forget to come back for Don Clinchy's review Sleepwalk with Me when it opens in Austin on Friday, August 31.