Thomas Haden Church and 'Killer Joe' at Violet Crown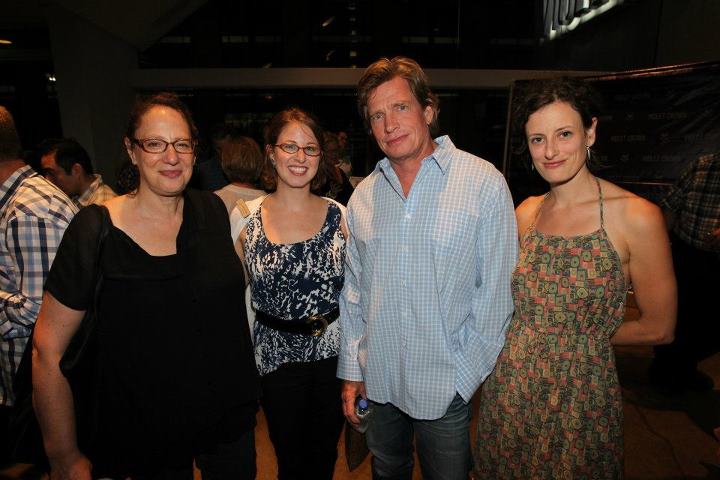 By James Pound
On Thursday, August 2, the Austin Film Society hosted a preview screening of Killer Joe, the shocking dark comedy from director William Friedkin (The Exorcist, The French Connection) and starring Matthew McConaughey. (See Debbie's review.) All four screens of the Violet Crown Cinema were sold out and the audience couldn't have been more excited to be there, especially because co-star Thomas Haden Church was there to introduce the movie.
With his booming voice yet laid-back demeanor, Church (or THC, as my friends and I like to call him) was a true crowd-pleaser. He was more than willing to sign autographs on Killer Joe posters as well as merchandise from previous projects ranging from Sideways DVDs to Spider-Man 3 action figures. I'll always remember him for his lovable doofus character Lowell on Wings, though. Church posed for many pictures with fans as well, and gave a great intro to the film, helping to set the mood in each auditorium.
Guests were also treated to some amazingly delicious snacks before the film. Fitting in with the soon-to-be infamous fried chicken scene featured in Killer Joe, patrons got to sample some fried chicken sliders from Ms. P's Electric Cock food trailer that were "out of this world" good. Moviegoers also got to sip on some handcrafted cocktails featuring Cinco Vodka, served up by Violet Crown's accomplished bartenders. I got to sample the Killer Joe Margarita, and I have to say the drink packed just as much punch as the NC-17 movie. Also on tap was a refreshing array of Austin's own Independence Ales that paired quite nicely with the chicken.
It was great to see a large and enthusiastic audience come out to support a film that many would consider a hard sell, especially because of the rating it has received and the dark subject matter it treads into. Hopefully if more films of this nature can find audiences, maybe studios and theaters won't be so nervous about screening them. Sometimes a great film deals with tough subject matter that is not appropriate for everyone. That doesn't necessarily mean it should be shunned from advertising or screening in theaters, in my opinion.
Killer Joe will be playing at Violet Crown Cinema, the Arbor and Alamo Drafthouse through August 23 at least, and I highly recommend seeing it in theaters with an audience for some of the visceral reactions it can elicit. Keep your eyes open for more sneak preview screenings and events from Austin Film Society as well, because they are always quite memorable.
James Pound is an intern at the Austin Film Society.