Review: Killer Joe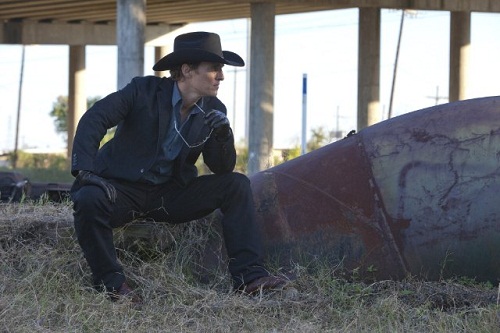 As an alumnus of both SXSW Film Festival and Fantastic Fest, I've seen many disturbingly provocative films over the years that I've unintentionally and thankfully forgotten. However, there are those emotionally and mentally intense films that are forever burned into my memory, often surfacing just enough in my brain to psychoanalyze before locking away into a dark corner.
Most of all, it's the 2006 Fantastic Fest selection Bug that I still ponder over perception versus reality. Based on the play by Pulitzer award-winning winner Tracy Letts and directed by William Friedkin, the psychological thriller centers around a veteran who holes up with a lonely woman in a run-down Oklahoma motel room. What's reality and what's imagination is unclear as the couple discovers a bug infestation. Friedkin contacted Letts after seeing the play, and the two collaborated on the screen adaptation. Friedkin has described the movie as "the most intense piece of work I've ever done."
Killer Joe reunites Letts and Friedkin in another stage-to-screen adaptation, as the play Killer Joe ran off-Broadway in 1998 for nine months. This darkly humorous and gut-wrenching film focuses on a young criminal, Chris Smith (Emile Hirsch), whose gambling debts endanger his life. He schemes to put a hit on his evil mother and collect the insurance payout, with the intent to split the money with his mentally challenged sister Dottie (Juno Temple), dim-witted father Ansel (Thomas Haden Church) and new stepmother Sharla (Gina Gershon). Chris enlists the services of dirty cop and hitman Killer Joe (Matthew McConaughey) to do the job for them.
Chris's lack of common sense, which got him into trouble in the first place, only further seals his fate as he fails to realize the gravity of entering into a deal with Killer Joe. Since Chris has no money to pay Joe, he reluctantly albeit briefly agrees to Joe's request for the virginal Dottie to be provided as "collateral." The intention behind the pact is revealed as Dottie is set up for a date with Joe -- Sharla takes Dottie out to purchase a nice dress, and Ansel and Chris manage to excuse themselves from dinner. What transpires between Dottie and Joe isn't fully demonstrated, but enough evidence is provided for Chris to regret and attempt to retract his deal ... but is it too late, and what if things don't go as planned?
McConaughey's performance in Killer Joe is amazing but truly disturbing, exuding charm as easily as a violent killer cobra-like strike. A climatic scene involving McConaughey seeking payment from the Smith family is terrifying and abusive, but McConaughey plays it with such ferocity and intent that viewers will truly fear his Killer Joe. Temple is mesmerizing as Dottie, played with an even-tempered and wide-eyed innocence. Her brilliant moments of clarity are so well delivered that there's no mistaking who is truly the most intelligent of the Smith clan.
Thomas Haden Church delivers his signature doltish humor with deadpan delivery in a perfect portrayal as Ansel, which provided great comic relief during some of the more intense moments. Gershon has the most complex and challenging role as both a woman who is not to be trusted and receives the worst of Killer Joe's retribution. I can only imagine how challenging one particular scene was for Gershon, and she deserves recognition for the intensity of her performance.
The collaboration of Letts and Friedkin for Killer Joe is a powerful, emotionally charged, gut-wrenching experience that will keep viewers on the edge. The art direction and cinematography of the trailer park where the Smiths reside is reminiscent of the motel room in Bug, with dark and cramped rooms where violent emotions rage.
I guarantee that if you see Killer Joe, you'll never look at fried chicken the same way again. Hopefully you'll view McConaughey as a talented actor whose range can achieve a character beyond unimaginable fiendishness that resembles nothing of his prior stereotypical Hollywood roles. This is no Magic Mike or date-night movie -- be prepared to squirm in your seat due to the sexual and violent content, which may be too much for some viewers to stomach.
Texas connections: McConaughey lives in Austin, Thomas Haden Church resides in near Hunt in Bandera County, and Killer Joe is set primarily in Dallas, Texas (although shot in New Orleans).