Review: Neil Young Journeys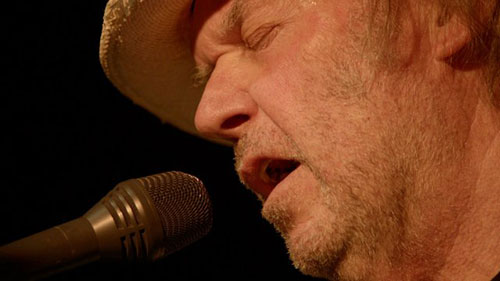 After almost 40 years as a filmmaker, Jonathan Demme has made his mark not only with his feature films but also as a documentarian. Demme's Stop Making Sense (1984) featuring The Talking Heads and his movie version of Spalding Gray's Swimming to Cambodia (1987) effectively portrayed the eclectic nature of his documentary subjects. Demme thrives on providing an intimate view of iconic characters, most notably his collaboration with the rock legend Neil Young.
Neil Young Journeys is Demme's latest and third film project with Young, preceded by Neil Young: Heart of Gold in 2006 and Neil Young Trunk Show in 2009. Like Heart of Gold, Journeys was filmed over the course of two nights of musical performances. The comparison ends there as Heart of Gold dealt more with Young's personal tragedy and health issues, but Journeys is less dramatic and more a drive down memory lane with Young in a 1956 Ford Crown Victoria.
As Young drives from his hometown of Omemee, Ontario, to historic music venue Massey Hall for the final performances of his May 2011 solo world tour, he relates personal stories and intimate details about himself and his family. His dad Scott Young -- who died just a few months before Heart of Gold was filmed -- was the only white male in a minstrel show, and was quite famous in Canada as a writer. Young points out all the places that are gone in Omemee as well as those still standing, and while driving he reveals that he only listens to music in cars.
The cinematography in Neil Young Journeys is a hodge-podge of different film formats and styles from Super 8 to unique camera placement. During the musical performance, the movie felt a little too personal with the ultra close-up of Young's jowls through the use of a camera lens on the microphone stand. Just when I was comfortable with the frequent use of the close-up, Young accidentally spits on the camera causing a blurred image for a fair amount of the remainder of the film.
Interspersed among his reminscing is the major component of the documentary -- renditions of songs from his 2010 album Le Noise as well as classic songs including "Down by the River" (1969). The more recent "Peaceful Valley Blvd" (2010) is a soulful and lovely rendition, but "Ohio" is a bit jarring with several minutes of the images of the May 4, 1970 Kent State shootings scene and victims. One might feel this coverage overly sentimental, but form some it may also evoke reflection on parallels to the current state of affairs with the Occupy movements across the United States.
The soundtrack and music of Neil Young Journeys will certainly please any Neil Young fan, but less enthusiastic filmgoers may become a bit overwhelmed by the number and length of the performances as well as the volume. I think 103 minutes of Young overwhelms the senses, and this film could have been tightened by cutting some of the musical numbers. Despite its sentimentality, Journeys is still more light-spirited than Heart of Gold or Trunk Show.