UPDATE: POSTPONED Win Tickets to See 'Bindlestiffs' and Kevin Smith in Austin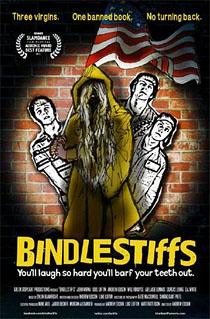 Editor's Note, June 11, 4:45 pm: I've just received word that the Bindlestiffs tour is being postponed, with new dates not yet finalized. I will keep you all posted, and am hoping we can still draw a name and give away tickets when a new date is set. I appreciate all of you who have posted such fascinating comments, and apologize for the delay.
When I saw Bindlestiffs at Dallas International Film Festival in April, I was appalled and offended. And now that it's coming back to Austin, I want to see it again. It's that kind of appalling. This is the first feature from Houston schoolmates Andrew Edison and Luke Loftin, who started working on this movie while they were in high school. They not only co-wrote the film but co-star as two of the three high-school boys whose weekend in the big city -- Houston, although it's not specified -- goes horribly awry.
The filmmakers are in their twenties now and taking their movie on a roadshow tour of the country. They're joined by Kevin Smith, whose SModcast Pictures picked up the movie for distribution earlier this year after its premiere at Slamdance, where it won an audience award. It's the first film SModcast Pictures is distributing, using a model similar to the way Smith distributed his movie Red State in 2011.
On Monday, June 18, Bindlestiffs will have two screenings at Alamo Drafthouse on South Lamar with Edison, Lofton and Smith here participating in a Q&A afterward. I can tell you from Dallas IFF that Edison and Lofton can hold a very lively Q&A, and most of you know that Smith is a master at audience interaction. Tickets are now available online for the event. Three levels of tickets are available from $50 to $100 -- the higher-priced tickets also get you a pre-order of the movie on DVD. It looks like the 6 pm show is already selling out of the lowest-tier of tickets, so if you want to attend this event you should buy your tickets now.
Slackerwood has a pair of tickets to give away to the 7 pm screening of Bindlestiffs in Austin. After the jump, you can read the details about how to enter a drawing to get them yourself.
To enter the drawing for the Bindlestiffs tickets, simply post a comment to this page about the most offensive movie you've ever seen, and why -- don't give us the R-rated details, though. Keep it PG if you can; the idea is not to offend us. Post your comments by 5 pm CST on Monday, June 11, 2012. We'll then draw a winner at random and let you know. Please include an email address when you post your comment so we know how to get in touch with you (I promise we won't use it for nefarious marketing purposes).
A few rules: Slackerwood contributors and AFS staff/interns can't enter the contest (sorry, don't hate me, I'm not eligible either), and entrants must be at least 18 years old since the screening is at an Alamo Drafthouse. You can enter only one time. If your name is drawn, we will have two tickets for the 7 pm show on June 18 at Alamo South waiting for you at the theater at will-call. And if you are completely disgusted by the movie and not in an entertaining way, you can't hold me liable. You have been warned.