Blue Goggles Films De-Pixelated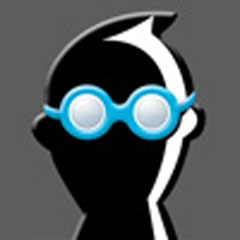 One of the perks available to members of the Austin Film Society is the quarterly Member Mixer, which is a great way to meet other film enthusiasts and filmmakers. At a mixer I attended in 2008, I met local filmmakers Ben and Rachel Moody of Blue Goggles Films.
At that time, they were working on an original web miniseries called Prologue, compelling short films that chronicled the moments before a zombie outbreak. The miniseries was designed to lead into a full web series of Epilogue.tv to follow survivors of the zombie apocalypse in their struggle to survive. Ben Moody developed the concept long before AMC's series The Walking Dead was filmed, and Epilogue.tv included a social networking component with a fun game of pitting zombies against survivors and interactive community forums. Unfortunately, further development of Epilogue.tv was abandoned, but you can still join and engage on the website and view Prologue online.
Fast forward to 2012, and Blue Goggle Films is on another filmmaking adventure. Since December 2011, their small local film crew has been making a short live-action film every month centered around the latest hot gaming trends, including Mass Effect and Skyrim. My personal favorite, A Very Arkham City Christmas, takes place on Christmas Eve with two of the Penguin's not so bright henchmen attempting to enjoy the holidays together within Arkham City prison. Watch A Very Arkham City Christmas here.
Blue Goggles Films has garnered a great response online from gaming fans with over 700,000 views for the four videos, gaining the attention of videogame sites. Gametrailers.com will feature the monthly shorts as a new series on their site called De-Pixelated, to include behind-­the-­scenes and weekly updates. The first episode of De-Pixelated released is based on the survival horror game franchise Resident Evil: Operation Raccoon City. Production took place in the Austin Can! Academies facilities for this chilling and suspenseful short film, which you can watch below.