Movies This Week: April 27 - May 3, 2012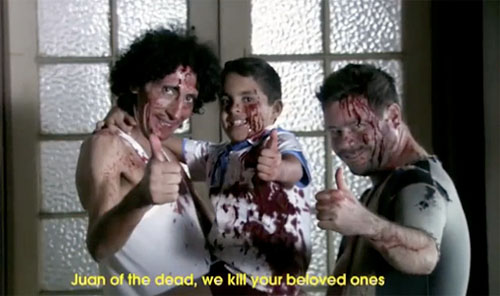 This is a great week for first-run comedies in Austin. I've seen three of these new movies and I would watch them all again -- they all made me laugh. And if those aren't not enough for you, The Cabin in the Woods is still screening in town.
In addition, SXSW 2011 multiple awardwinner and Central Texas-shot film Natural Selection (Debbie's review) returns to Austin this week as part of Austin Film Society's "Best of the Fests" series. Writer/director Robbie Pickering and producer Paul Jensen will attend the Wednesday, May 2 screening at Alamo Drafthouse Village. Get your tickets now via the AFS website.
On Thursday night, Cinema41 screens the 1997 movie Clockwatchers, starring Toni Collette and Parker Posey, at Salvage Vanguard Theater. And the Hayao Miyazaki film Princess Mononoke is playing at Alamo Drafthouse all week long as part of Alamo's Studio Ghibli series.
Movies We've Seen
Bernie -- Austin filmmaker Richard Linklater's latest is a very dark comedy starring Jack Black and Shirley MacLaine and based on an actual East Texas event, as recounted in a Texas Monthly feature by Skip Hollandsworth. In Don's SXSW review, he calls it "arguably the best Linklater film in a decade, an uproariously funny and engaging movie based on one of those only-in-Texas stories that would be the stuff of great fiction if it weren't astoundingly and painfully true." (Violet Crown)
Safe -- Debbie says, "Writer and director Boaz Yakin (Remember the Titans, Fresh) takes a risk with Safe, depending less on Jason Statham and more on young newcomer Catherine Chan as well as the convergence of two subplots connecting an unlikely pair." Read her review to find out whether Yakin succeeds. (wide)
Juan of the Dead (pictured at top) -- This Fantastic Fest 2011 favorite is screening nightly at Alamo Village. Rod says in his review that the Cuban zombie comedy is amazing and highly compelling. I thought it was just pretty damn funny and urge you all to go see it. And Bernie too. Not to mention...
Damsels in Distress -- This frothy, quirky comedy from Whit Stillman could practically pass as an overlooked Preston Sturges film. It's almost too quirky, but if you like that kind of thing (and I do), this is a fun choice. Stillman was inspired by Astaire/Rogers movies, so you should also expect a bit of dancing. For details, read my review this weekend. (Arbor, Alamo South Lamar)
The Five-Year Engagement -- Elizabeth says, "A new take on the romantic-comedy formula, though as predictable as any, The Five-Year Engagement still packs the laughs in." Written by co-star Jason Segel and filmmaker Nicholas Stoller. Look for Elizabeth's review this weekend; in the meantime, check out J.C. De Leon's review on ScreenInvasion. (wide)
Other Movies Opening in Austin
Delicacy -- This French drama about a widow who is romatically pursued by her Swedish coworker stars Audrey Tautou. In her Austin Chronicle review, Kimberley Jones says the film is flawed but admires the lead performances, which combined are "a thing of beauty." (Arbor)
Goon -- Seann William Scott and Jay Baruchel (who also cowrote) star in this comedy about an underdog hockey team. It's been getting some good buzz. Austin critics Luke Mullen and Brian Salisbury debate the movie's merits over at Film School Rejects. (Alamo South Lamar)
The Pirates! Band of Misfits -- The latest film from Aardman Animation (the Wallace and Gromit people) sounds like good rollicking family fun. The amazing voice cast includes Hugh Grant, David Tennant, Martin Freeman, Imelda Staunton and Salma Hayek. Please just let it be better than Flushed Away. (wide)
The Raven -- This biography of the last days of Edgar Allan Poe didn't screen for Austin critics. This opening paragraph from Dallas film critic Peter Martin's review for Twitch says it all: "Like slightly-cooled hot chocolate -- with John Cusack as a marshmallow Edgar Allan Poe -- The Raven goes down easy, warming the weary soul on a cold night, without leaving much of an aftertaste." (wide)
Warriors of the Rainbow: Seediq Bale -- Supposedly the most expensive film made in Taiwan, this movie recounts historical events surrounding a (bloody) rebellion in Japanese-occupied Taiwan in the 1930s. Read Marc Savlov's review in the Austin Chronicle for details.