SXSW 2012 Photos: Music Takes Over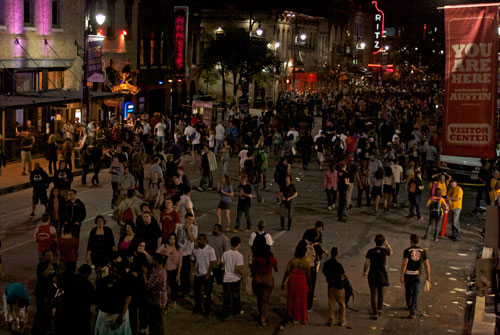 As massive as the crowds may have been during the SXSW Film and Interactive Conferences, the number of people downtown when SXSW Music starts is overwhelming. Even on Wednesday night, which is usually a "soft" opening for SXSW Music, there were massive crowds on Sixth Street as seen above. I braved the crowds to attend screenings at the Alamo Drafthouse Ritz and the Paramount Theatre, both appropriately for music-related screenings.
Music at SXSW isn't just contained within the bars and clubs. Check out some of the other locations where well-known musicians and live music performances are found after the jump.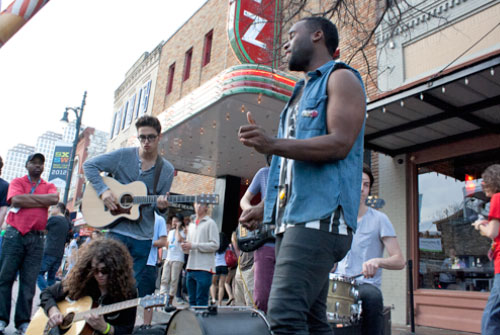 Musicians filled the sidewalks and streets with live performances, as seen above outside the Alamo Ritz.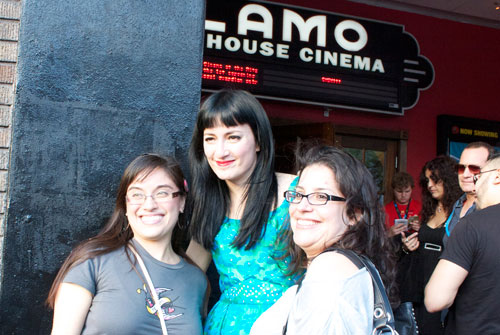 Grammy nominated Cuban-born and New York based singer CuCu Diamantes attended the second screening of Amor Cronico, which seamlessly blends footage of live musical performances with a fictional love story narrative. She posed with fans outside the theater before the screening as seen above.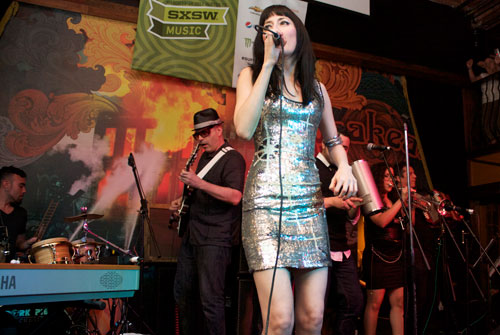 Diamantes took to the stage Wednesday night with her New York band at The Speakeasy, as seen above. Unfortunately, she was unable to attend the final screening of Amor Cronico on Friday, due to a performance scheduled for Thursday night in New York City.
Thursday night featured a very special screening of Big Star: Nothing Can Hurt Me, a work-in-progress documentary about the underground band Big Star. Following the film an all-star group of musicians including the band's last surviving member, drummer Jody Stephens (seen above), along with Mitch Easter (Let's Active) and Chris Stamey (The dB's) led a large ensemble including a string section and cameos from R.E.M.'s Peter Buck, the Replacements' Tommy Stinson, Wilco's Pat Sansone and many more to perform the band's third album "Big Star Third/Sister Lovers" in celebration of the Big Star legacy.
Check back for my review of Amor Cronico -- because Big Star: Nothing Can Hurt Me is a work-in-progress, reviews are not available as of yet. As a Big Star fan, I highly recommend checking out the band's discography to understand why so many musical artists credit Big Star with influencing their music.
[Photo credits: "SXSW Music 2012 on Sixth Street," "CuCu Diamantes with fans," "CuCu Diamantes Onstage," "Jody Stephens at the Paramount" by Debbie Cerda. All rights reserved.]