Review: Casa de mi Padre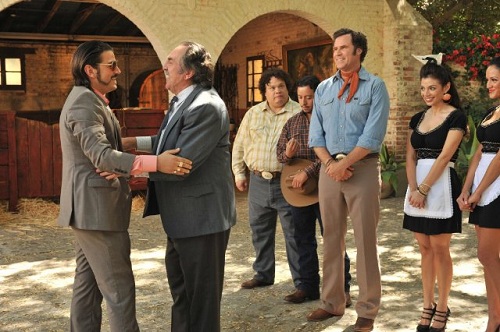 I watched more soap operas than I care to admit with my mother and grandmother when I was young, but it wasn't until I spent a college summer break in Costa Rica that I sat through an entire Spanish telenovela. Without exception, the acting was overly dramatic and the sets were cheaply constructed, yet I found myself hooked by the plight of heroes and heroines who were often at the mercy of a moustached villian. Plus, it was a great way to brush up on Spanish. If you've not watched a telenovela on Univision or another Spanish language channel, you can experience the melodrama on the screen with the parody movie Casa de mi Padre starring Will Ferrell in a Spanish-speaking -- and singing -- role.
Ferrell portrays Mexican rancher Armando Alvarez, the eldest of two brothers who must save his family's failing ranch while dealing with drug traffickers. His younger brother and successful businessman Raul (Diego Luna) returns home with his vivacious fiance Sonia (Genesis Rodriguez), much to the delight of their father Miguel Ernesto (Pedro Armendáriz Jr.). However, Raul's true intentions are to take on the local drug lord, Onza (Gael Garcia Bernal), putting the Alvarez family and their farm in even more danger. Things become even more complicated for the Alvarez brothers as Armando falls for Sonia, and must save both her and the family's business with the help of his trusty sidekicks, Esteban (Efren Ramirez) and Manuel (Adrian Martinez).
The native Spanish-speaking actors in Casa de mi Padre are extremely talented and rather engaging in their roles, whether it's the understated and under-utilized comedic talents of Ramirez and Martinez or the villianous attractiveness of Luna and Bernal. By far the star of Casa de mi Padre is Genesis Rodriguez, who convincingly plays the sultry love who is torn between two brothers, but also delivers her own comedic chops alongside veteran Ferrell. The tragedy of the film casting is of Ferrell, whose darkened hair and gringo delivery of Spanish dialogue do not make him a convincing telenovela hero.
I found this movie confusing at times, in understanding whether it was meant to be homage or parody -- often it strangely seems a little too serious but then also contains rather surreal scenes. Fans of Ferrell might agree that he comes across as quite subdued in this comedy, most likely due to the lack of opportunity to improvise as the film is almost entirely in Spanish. The deliberate use of cheaply constructed sets is humorous yet distracting at times. I tend to notice flaws in continuity throughout films, but Casa de mi Padre contains so much deliberate discontinuity that I had to force myself to ignore the random distractions.
Casa de mi Padre is mildly amusing, but not entertaining enough to recommend. Don't bother to rush out to see it at theaters ... unless you can still find a dollar cinema. Otherwise, wait until it hits cable if the Spanish language with subtitles doesn't make it a hard sell to any television channel. If you do see Casa de mi Padre at the theater, be sure to stick around after the credits for the Easter egg cameo.