AFS Announces SXSW 2012 ShortCase Winners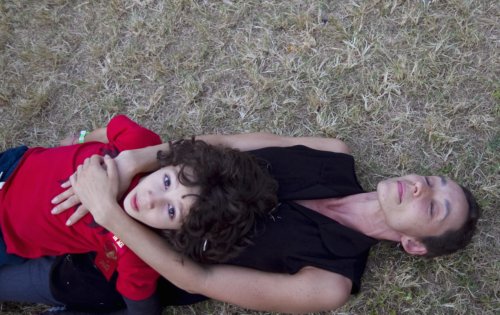 This year's SXSW Community Screening: Austin Film Society ShortCase will be held Saturday, March 10 at 11 am in the Canon Screening Room (aka Rollins) at the Long Center, and will feature short films by Central Texas filmmakers ranging from Richard Garriott to Bob Ray.
I was pleased to be invited to curate the ShortCase -- I've said for years that I'd love to help host a short-film festival. The response from AFS filmmakers was overwhelming, with over 100 short films submitted in a two-week timeframe. I cried, laughed, and screamed -- and even hit the Rewind button a few times to savor certain scenes. AFS Interim Artist Services Manager Austin Culp, intern Reid Connell and I worked together to select the 10 best films to fill the 90-minute screening time. It was a daunting task with so much wonderful content representing the talent of AFS filmmakers, but we somehow agreed on the final slate.
For filmmakers who didn't make the cut, we hope that you'll submit films for future ShortCase events -- I'm already formulating a cunning plan to get some of the content into a screening later this year. Feedback will be provided to filmmakers who requested it, and we encourage everyone to take advantage of the programs available to the AFS filmmaker members.
Without further ado, here are this year's SXSW ShortCase films.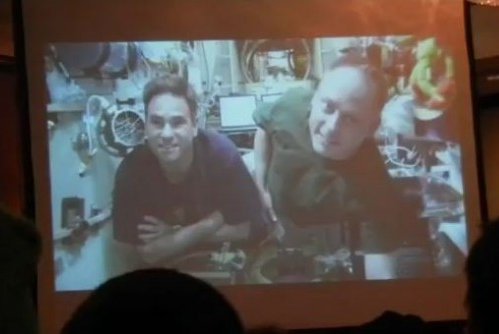 Apogee of Fear (dir. Richard Garriott) -- Yes, you read that right: The first science fiction movie made in space has finally been released for viewing by the public. Submitted by AFS filmmaker member Richard Garriott from a script contracted from fantasy novelist Tracy Hickman, Apogee of Fear was filmed aboard the International Space Station where Garriott was a spaceflight participant in 2008. Cosmonaut Yuri Lonchakov and astronaut Michael Fincke -- seen above -- as well as other members of the ISS crew co-star in this historical film depicting intrigue as an alien lifeform is discovered aboard their station.
The Curse and Jubilee (dir. Ivete Guerra Lucas) -- An insightful view of survival in the post-industrial mining town of Ivanhoe, Virginia. The film depicts the strength of the local residents as they recount the curse of Ivanhoe and enjoy the celebration of the Jubilee, a July 4 celebration where the scattered families return to their forsaken lands and stand in solidarity against the scars left by the mines, racism, poverty and abandonment.
Hot Dogs and Hand Grenades (dir. Justin Corsbie) -- A boy on his first hunt, a group of angry well-meaning protesters that do more damage than good and a speed freak determined to add a new species to his kill list. This mockumentary exposes the truth about Bobby Cartwright's U-Shoot 'Em Ranch in rural Texas, a high fenced exotic hunting range where the prey of choice is Bos Primi-genius Taurus, commonly known as the domestic cow.
Huntered (dir. Ryan Barlow) -- What happens when a bear crosses path with a hunter during hunting season? This short animated piece answers the question with a humorous twist.
Last Known Surroundings (dir. Explosions in the Sky) -- Local instrumental rock artists Explosions in the Sky premiered their first video on Wired, which will have its first theatrical screening at ShortCase. This visual journey across sweeping landscapes and into deep space will both sooth and hypnotize viewers.
Mentiroso (dir. Wilfred Shipley) -- This 2010 TFPF grant recipient film project is set in the 1920s in an old Mexican town. A young boy has to prove to his friends that he has seen a woman naked, or be beaten up for lying.
Mijo (My Son) (dir. Chithra Jeyaram) (pictured at top) -- An evocative and uplifting portrayal of a single mother raising her son and their intimate relationship in the midst of life-altering medical events.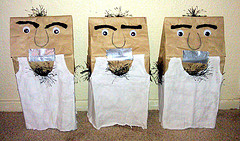 Mustachio (dir. Joshua Flanagan, Stephen Gamache) -- Fans of the endearing and Academy Award-winning film The Artist will adore this silent period piece about a young man who must tame his namesake mustache if he's to win the heart of his lovely guest and pen pal Claudette.
Sacked (dir. Bob Ray) -- Part of Ray's "The Four ShortFilms of the Apocalypse," this mix of live action and puppets (pictured at right) -- demonstrates how a flaming bag on your doorstep will never look the same again. Neither will the Mob.
Smile (dir. Nicholas Cormier) -- Two angry young men attack a homeless Vietnam veteran, who turns out not to be so defenseless as it would seem.
One last word of advice to a few filmmakers who weren't accepted into this screening -- always double-check your DVDs or Blu-ray discs to ensure they play. Despite the challenge of viewing over 100 short films, we tried our best to contact and work with AFS filmmakers to obtain an alternate format. Most film festivals won't be as flexible, especially with incomplete forms.
SXSW Community Screening: Austin Film Society ShortCase will be held Saturday, March 10, 11 am in the Canon Screening Room at the Long Center.