Interview: Lev Anderson and Chris Metzler, 'Everyday Sunshine'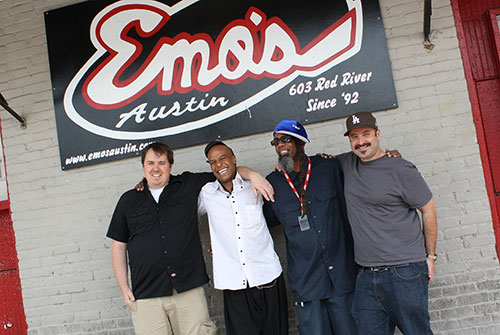 Everyday Sunshine: The Story of Fishbone originally screened at SXSW in 2011, and the filmmakers and the band were back in town last October to support Austin Film Society with a special screening and Q&A, as well as a sold-out show at Emo's Austin. I thoroughly enjoyed this compelling and dynamic tale of punk rock pioneers Fishbone and their rise, fall and subsequent revival -- read my review. The documentary was released on DVD this week, and is available for purchase on the Everyday Sunshine: The Story of Fishbone website. Bonus features include deleted scenes, band commentary, interview outtakes, and rare concert footage sure to please any Fishbone fan.
During their October movie-and-music tour, I spoke with band members and frontmen Norwood Fisher and Angelo Moore -- listen to the podcast interview -- as well as filmmakers Chris Metzler and Lev Anderson. Find out how Metzler and Anderson used a variety of visual storytelling techniques to portray the story of one of the most influential punk rock bands of the last 20 years and the social and personal issues surrounding them after the jump.
Slackerwood: What inspired you to select Fishbone as your documentary subject?

Lev Anderson: Obviously they are an influential band, one of the more original bands of the last 20 years. We saw this as an opportunity to tell a story, not just about the band, but about the city of Los Angeles as well as some of the social issues that the band has kind of wrestled with throughout the years -- racism, (being) black rockers. It's also just this portrait of artists working as hard as they can to make their art without compromising as much as they can. It's a story about rock and roll, it's a story about race, and it's kind of a story about funking out.
Chris Metzler: And the band is made up of a bunch of weirdos, so what better way to make a fun documentary than to be able to hang out with six original guys that kind of have carved out their own path in life and continue to live a punk rock life. Punk rock is something that keeps on going now, and kind of inspired the way that we approached the film too.

Documentary format can sometimes be a challenge to draw in and engage an audience, and sometimes described as being dry and boring. Talk about your use of multimedia -- animation, live footage, personal interviews -- to make a dynamic and compelling documentary?

Metzler: I guess they haven't seen our films yet! Actually when we first started making documentaries, one of the things that we first thought was we wanted something that didn't just seem like it was trying to force feed you specific ideas or social issues, or change the world. We wanted to tell entertaining stories, that dealt with important issues, hopefully through entertainment to be a catalyst for change.
When we looked at the 25 years of the story of this band, we wanted to not just tell a story about the personalities and the individuals, but how historical events in society shaped them and their music in the sense that you couldn't understand the band and the people that make it up if you didn't understand their community. Since you are dealing with such a large time period, of course you need to take a more collage-based format. Whether picking old Super 8 and old video stuff, but creating like Fat Albert animation to tell the story of these six guys meeting in junior high. Each time we looked at it, any of the visual and story techniques were about trying to emphasize and tell things in as succinct and as entertaining ways as possible.

Anderson: As Chris mentioned, with the Fat Albert animation, that really helps place you in that time period of the late 70s and early 80s when Fat Albert was on everyone's television sets and you get to follow these guys and meet them in junior high school. It's just a fun way to introduce the characters, and inject some levity into it and get the audience into it. Then we add some of the other collage elements in the film that were inspired by Emory Douglas' Black Panther artwork. Kind of this thick-line collage style, that infuses that time period and that kind of attitude into it -- because Norwood and his brother Fish had actually gone to Black Panther breakfast programs in LA in the early 70s when they were little kids. So that was another way to bring in these cultural elements without being too heavy-handed with it.

Metzler: Yeah --- in the end we are making a film and so the kind of visual storytelling is an important part about it, so the thing that we always try to keep in mind with the film is just that we really want to put you in the moment. So whether it be in a punk rock scene, during the riots, or while the band is on tour we really wanted you to feel it, and that's kind of why we took this more multimedia approach to it.
Is that also what allowed you to deal with some of the more sensitive issues in this film? How did you address the personal issues such as mental health and depression of a band member, and the band's loss of a friend and brother?

Anderson: You're talking about Kendall [Jones], the original guitarist, leaving the band. That was a difficult time for the band, and some of the artwork we used then was to show this emotional abrupt sense of what they were going through, in terms of losing a best friend and his kind of state of mind at the time. He was feeling maybe a little lost -- he had just lost his mother to cancer, he was reunited with his father who he hadn't seen for a long time, and you add a little bit of the religious element into it and things go kind of wild and crazy for a little a bit there.
It was difficult to really balance out the story, because we didn't want to make it look like Kendall went absolutely crazy and that he's this crazy guy. Kendall is a very smart, intelligent, and warm person who was going through a really tough time. The band tried to deal with that as well as they could, and it was unfortunate for them because they were reaching this peak of their popularity -- they were just about to go out on Lollapalooza and they lose their guitarist. I think that was a rough time for the band, but they were really cool and open about talking about things and we were lucky enough to hook up again with Kendall later on. It also injected this emotional strength into the story, where it wasn't just this typical rock-and-roll story, but it's a story about brothers getting lost and found.

Metzler: It's always one of those questions that you get, that you think about sometimes when making documentaries -- how do you get people to open up? A lot of that time that Lev and I pushed and spent with the guys -- if you show that you are dedicated to telling their story, and you're not just kind of jumping in and saying, "look we are just going to use you and leave," I think then that people begin to trust you. In the end it's just about listening and spending time and building these relationships.
We wanted to make a documentary that's objective and captures the Fishbone story, but you can't help but to create friendships and relationships with the people you are making a film about. In the end, the guys in the band are happy with the film. This might not be the film that they thought was going to be made, but in the end I guess they are impressed by what was captured.
Any last remarks about Everyday Sunshine: The Story of Fishbone?
Metzler: We try not to ghetto-ize this music documentary, but in the end at the heart of this story, it's a band and their music. If you haven't seen Fishbone live, get your asses there and check them out because they are very electric onstage and some of the best performances that you are going to see out there.
Anderson: Everyday Sunshine is a fun film for people who have never heard of Fishbone. We played St. George, Utah, that was a roomful of 70-year-old Mormons, and they loved the film -- so it speaks to a lot of different things. Definitely check out a Fishbone show and their new album is also out so they are still putting out good music.
[Photo Credit: "Chris Metzler, Angelo Moore, Norwood Fisher, and Lev Anderson at Emo's Austin", by Debbie Cerda, all rights reserved]