AFF Review: Harold's Going Stiff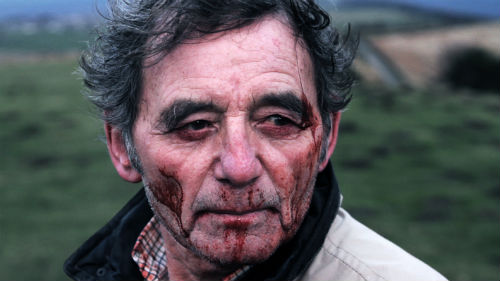 Just when you thought the Brits had cornered the market on reinventing the zombie genre, writer/director Keith Wright brings us a fresh new take in Harold's Going Stiff, which won the Austin Film Festival Narrative Feature Competition this week.
Using a mockumentary structure, Wright introduces us to pensioner Harold (Stan Rowe), whose stiffening joints and painful muscles aren't merely old age. he titular Harold is the first known sufferer of "O.R.D." or Onset Rigor Disease, an infliction that starts with painfully stiffened muscles and ends up with the classic diminished intelligence, lack of speech and violence of a zombie-like state. His new visiting nurse Penny (Sarah Spencer) cheerfully tortures Harold with painful therapies to help him keep the disease from progressing. In the meantime, controversy reigns over vigilantes hunting down the afflicted who've reached the final stage of the disease.
Harold's Going Stiff is heavy with dry British humor that gently mocks everything and everyone it, Harold himself included.The comedy is often sly with an afterbite, from Penny's search for romance to the warehousing of final stage O.R.D. victims. But it doesn't shy away from broad humor either, from the snarkily suggestive title to the setting (Penistone, known as the "heart of South Yorkshire").
Yet for all the dark humor in the movie, it's uncannily poignant. One doesn't have to to be a horror fan to appreciate Harold's Going Stiff. Like the best horror, it doesn't substitute gore for story. None of the humor sacrifices the humanity of Harold's plight. It's hard not to relate to Harold, who could easily be your favorite uncle; often gruff, occasionally impish. Rowe may only have one film to his credit, but his performance is deeply nuanced, with a full spectrum of emotions, whether he's petulant about the prospect of being subjected to more testing, or being chuffed at the results of Penny's ministrations.
Harold's Going Stiff joins the ranks of refreshing contemporary zombie films alongside Shawn of the Dead, 28 Days Later and Fido (not British but still worthy). But more importantly, Harold's Going Stiff is just plain fresh.
Harold's Going Stiff plays AFF one more time tonight (Wednesday, Oct. 26) at 9:30 pm at the Arbor.