AFF 2011 Interview: Eric Steele and Adam Donaghey, 'Uncertain, TX'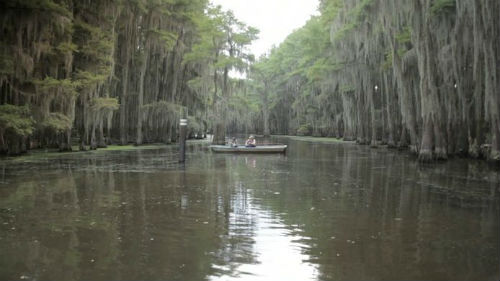 We're deep in the heart of the 18th Austin Film Festival we've been spotlighting the Austin films, but Uncertain, TX has so many Texas filmmakers working on it, we just had to do a quick interview with director Eric Steele and producer Adam Donaghey, both based up in the DFW area. Austin's Clay Liford (Wuss, Earthling) did the cinematography. Uncertain, TX may be Steele's first feature film, but he's been active in the local film community. Steele, Donaghey, Barak Epstein and Jason Reimer are all part of Aviation Cinemas, which revived the historic Texas Theatre in 2010.
Describe your film for us, in a quick and dirty paragraph.
Eric Steele: Uncertain, TX is, in essence, the worst bed and breakfast experience imaginable. Two drifters happen upon an old bed and breakfast in a bayou town near the Louisiana/Texas border and encounter a very odd family who psychologically torments them during their stay. It's a tragicomedy at its core and is purposefully theatrical - inspired by film versions of Shakespeare.
Tell us one thing about this film that is going to make it impossible for people to resist seeing it at the AFF?
Eric Steele: Blind B&B owners. Vast, sprawling Caddo Lake as the backdrop. Nutria. Gar. What else could you want?
Adam Donaghey: Boogie-woogie!
How long have you been working on the film?
ES: We shot in 9 days last year (in August) and have been working on post for a year.
AD: We should also mention the fact that the only pre-production we did on this film were a couple of weird, writing trips Eric and co-writer/star Hunter Wood took to Marshall and a quick location/tech scout we did during production on Wuss -- a film made by most of the same production team, which literally wrapped three days before principle photography on Uncertain, TX.
What are the recognizable locations in Texas?
ES: The towns of Marshall, Jefferson and Uncertain, TX are featured in the movie.
What are your future plans for this film?
ES: Our hope is to launch from AFF into the festival circuit and eventually find distribution for the film. I sure would love to see it at midnight in cinemas across the globe.
AD: I'd also like to present the film to B&B's who might use it in their ad campaigns.
What one place to visit/eat/drink would you recommend to out-of-towners here for the AFF?
ES: Snack Bar on Congress is GREAT. East Side Show room is awesome too.
AD: I dig just about everything on South Congress.
What are you looking forward to doing during the AFF?
ES: Seeing many great films, including my friend Michael Urie's "Thank you for Judging"
AD: I'm really looking forward to our screenings. The last couple of years I've bowed follow-up films for several directors; but this is Eric's first feature and I'm super stoked to be a part of his journey.
Uncertain, TX world premiered at Austin Film Festival on Thursday, and encores on Saturday, October 22, at 5:30 pm at the Rollins Theater in the Long Center.