AFF 2011 Preview: Selected Shorts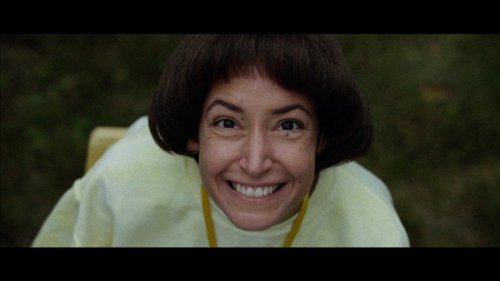 I find it intriguing that shorts are recognized as an art form in Europe with the European Film Academy's short film initiative in co-operation with a series of film festivals. With most filmmakers starting out by making short films before tackling feature-length projects, one would hope the American film industry and festivals would embrace and support the short film format as well.
Thankfully, local film festivals feature some short films in their schedules, with the Austin Film Festival (AFF) offering the largest and most diverse programming of shorts at festivals in Austin. This year is no exception, with 13 separate shorts programs and a few short films preceding features, highlighting emerging filmmakers from Texas as well as across the globe.
Check out some of my recommendations from this year's list of Compiled Shorts programs -- you can add them to your AFF Festival Genius schedule by clicking the related link for each shorts program -- after the jump.
The Shorts 1 program at AFF 2011 includes two films that demonstrate the desperation faced by men to survive and support their family. Bayou Black takes us through a day in the life of Willy Jones (Michael Kenneth Williams), a single father struggling to make a living to raise his son. He traps nutria in the Louisiana swamps for their tails to make ends meet. Things take a turn for the worse when a local landowner suspects and accuses Willy of poaching on his property, leading to a confrontation that drives Willy to take drastic measures. Commerce is a stark and grim portrayal of Ken (Joel Gretsch), a businessman with a compulsion that alienates and threatens to destroy his relationship with his wife Beth (Annabeth Gish). A chance meeting on a city bus with Pete (Noel Fisher) could save him, or be the final straw for his family's financial survival.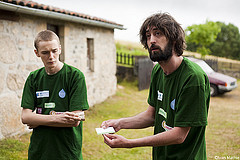 Paris Shanghai (pictured at right) featured in the Shorts 2 program, is a whimsical road story of what happens when Manu, a cyclist on a 20K journey is run down by Victor, a teen behind the wheel of a stolen car. The pair travel across the countryside together in order for Victor to replace Manu's bike, but it turns out that Victor is the one truly in need of support. The humor transcends the language barrier in this beautifully shot and leisurely paced French short film.
Shorts 3 program features my favorite selection from AFF this year -- The Kook, an engaging sci-fi comedy featuring T. Sahara Meer, whom audiences might recognize from her starring role in Flow, a short film that premiered at SXSW film earlier this year. Meer portrays Fa (pictured at top), a member of an eccentric religious sect awaiting their alien leader in the Catskill Mountains. On the eve of their scheduled departure from Earth, Fa discovers their transmissions are crossing with those of a local man named Malcolm. Fa attempts to resolve the disruption and makes a discovery that leads her to take action, resulting in an ultimate sacrifice to protect her sect family. Meer's acting along with the filmmakers' character development and screenwriting effectively hooks and draws in the audience to sympathize and connect with Fa's character.
Mwansa the Great, which screens in the Shorts 4 program, is a bittersweet story of a day in the life of Mwansa (Owas Ray Mwape), a young boy in Zambia who lives with his sister and mother. The children mourn their recently deceased father with cherished memories, escaping into daydreams often represented as reality. Mwansa's determination to find his father's "magic mud" to fix his sister's doll that he accidentally breaks leads him on a quest with his siblings and other village children. Despite the lack of material wealth and grief over his father, Mwansa the Great overcomes adversity with great humor and grace. The cast, including the young actors, are credited with writing of the dialogue. Writer and director Rungano Nyoni received financial and professional support through Africa First, a program of Focus Features that sponsors emerging filmmakers from Africa.
Shorts 6: (Dark Matter) is a guilty pleasure I enjoy every year at AFF, and this year is no exception with some inclusion of a favored sub-genre: the apocalyptic/post-apocalyptic nature. The darkly humorous Blind Spot centers around Steven, who can't see how his day could get any worse than dealing with airline telephone reservations, but that's because he's not observant enough. The Interview is another dark comedy in the Shorts 6 program that I highly recommend. As the second to the last man on Earth, Sam (Adam Shapiro) should be a shoo-in for a job, especially with his strong immune system. However, interviewer Howard (Bill Glass) may be seeking a more qualified candidate -- will Sam get the job?
Shorts 9 (Animated Shorts) features some rather impressive and extremely creative animation techniques. I'm looking forward to seeing all the films on this program. I especially enjoyed filmmakers Ru Kuwahata and Max Porter's animated film debut with Something Left, Something Taken, the tale of a vacationing couple fascinated by forensic science who encounter a man they believe is the Zodiac Killer. This short film features a wide range of animation techniques including the use of stop-motion with corrugated cardboard and fabric props. Preview Something Left, Something Taken below:
Something Left, Something Taken- Full Version from Tiny Inventions on Vimeo.
Shorts 10: Doc Shorts features the most provocative short film, Abuelas (Grandmothers), and is the debut for Iranian-born filmmaker Afarin Eghbal. Based on real-life testimonials, an old woman (voiced by Geraldine McEwan) tells how she eagerly prepared and awaited the birth and joys of her grandchild. However, horrific circumstances forced her and many other grandparents to wait for over 30 years to see their grandchildren. Using real-life testimonials of the "Grandmothers of May Square," this animated documentary raises issues of memory, repression and loss that resulted from the traumatic ramifications of General Videla's military dictatorship in Argentina from 1976–1983, whereby an estimated 30,000 men, women and children "disappeared." Abuelas is a heart-wrenching testament to the extraordinary tenacity of the women who continue to search for the truth about their missing relatives.
I've not yet screened any of the selections from this year's Shorts 12: Young Filmmakers but I'm quite confident from the trailer that I don't want to miss Onion Skin. This romantic comedy features a high-school student who causes an uproar and receives ridicule when he decides to write a letter rather than text message a girl that he is interested in. Joseph Procopio is the 17-year-old award-winning filmmaker behind this romantic short, and with 11 short films to his credit he's definitely on my "filmmakers to watch" list. Inspired at the age of 8 by Steven Spielberg, Peter Jackson, Robert Zemeckis, and Steven Soderbergh, Ontario-based Procopio began making films on a Handicam using basic editing software -- he's moved up to FinalCut Pro now. I was most impressed by his short film Tiny Pillows, which he created in 2009 from a poem he wrote at 13. Procopio's direction, art design, and editing is quite impressive for a filmmaker at any age -- his artistic composition and framing is astounding. Watch Tiny Pillows below:
Tiny Pillows (2009) from Joseph Procopio (Age 16) on Vimeo.
Check back later for our coverage of Shorts 13: (Where I'm From) program featuring the finalists from the Texas Monthly's "Where I'm From" Short Film Contest, as part of Slackerwood's ongoing AFF 2011 coverage.