AFF 2011 Interview: Andrew Disney, 'Searching for Sonny'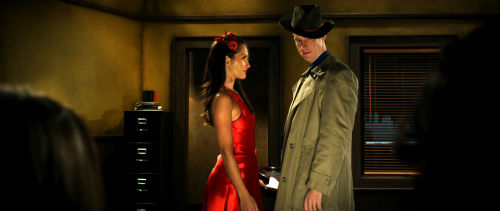 The 18th Austin Film Festival is almost here. To help celebrate all the locally connected movies at this year's fest, we've reached out to a number of filmmakers to find out about their Austin and Texas-tied films screening at AFF, and to hear about what they're looking forward to doing during the festival.
Searching for Sonny was filmed in the Fort Worth area by first-time feature director Andrew Disney, with a very recognizable cast including Jason Dohring, perhaps best known from his role on Veronica Mars. Disney and Dohring who will be in attendance at the film's AFF screenings along with cast members Nick Kocher and Brian McElhaney. As Disney points out in the interview, Dohring isn't the only recognizable name or face in the cast.
Slackerwood: Describe your film for us, in a quick and dirty paragraph.
Andrew Disney: Searching for Sonny is an indie comedy mystery movie. It's a ride film that I hope feels like Big Lebowski and Rushmore had a baby. And that baby is on crack. We're a bunch of Texas filmmakers who tried to to create a big-looking Hollywood-feeling stylish flick with a very indie-sized crew on an incredibly indie-sized budget. Perfect film to watch with a beer and friends.
Tell us one thing about this film that is going to make it impossible for people to resist seeing it at AFF?
Your favorite actor from that cult TV show you obsessed over is in the film. If you were a fan of Veronica Mars, Friday Night Lights, Battlestar Galactica, Heroes or The Wire then you're in luck because Logan Echols (Jason Dohring), Lyla Garrity (Minka Kelly), Colonel Tigh (Michael Hogan), Hiro Nakamura (Masi Oka), and Lester Freamon (Clarke Peters) are all in Searching for Sonny. TV junkies will be in heaven.
How long have you been working on the film?
I started writing it my last semester at NYU in 2007. I put it away for two years, traveled across America in a used ambulance and did some freelance. And then in 2009, I decided that my New Year's resolutions would be to make a movie and lose 20 pounds. Now in October 2011, I'm proud to say, I've accomplished one of those goals.
What are the recognizable locations in Texas?
We shot the whole film in Fort Worth (second best city in Texas). Fort Worthians will see Ol' South Pancake House, TCU, Spinks Airport, and a ton of stuff at Trinity Valley School (GO TROJANS).
What are your future plans for Searching for Sonny?
In November we're doing our hometown premiere at the Lone Star International Film Festival in Fort Worth. At AFF, we'll start beta testing a roadshow concept we've been playing with. If you never watch TV but you do like the internet, then you'll be stoked to know Brian McElhaney and Nick Kocher star in the film. They make up the comedy duo explosion known as BriTANick. At 7:30 pm on Friday, the 22nd (the night before our premiere), BriTANick will be performing a live show at the New Movement Theater. I'd love to do a tour where BriTANick and Searching for Sonny hit up college towns with a live-show-and-film double-feature.
What one place to visit/eat/drink would you recommend to out-of-towners here for AFF?
Uchi has the best sushi. Shady Grove has the best cheese fries. The Searching for Sonny team will be curing their hangovers at the South Congress Cafe.
What are you looking forward to doing during AFF?
The panels, the parties, the roudtables, and every word that comes out of Michael Arndt's mouth. I'm also excited to hang out and just soak it all in. I can't believe my first feature is premiering! So thankful and grateful that AFF programmed us. It's one of my favorite festivals. It's gonna be a real out-of-body experience.
Searching for Sonny has its world premiere at Austin Film Festival on Saturday, October 22, at 8:15 pm at Rollins Theater at the Long Center, with an encore on Monday, October 24, at 7 pm, also at Rollins.