Review: Attack the Block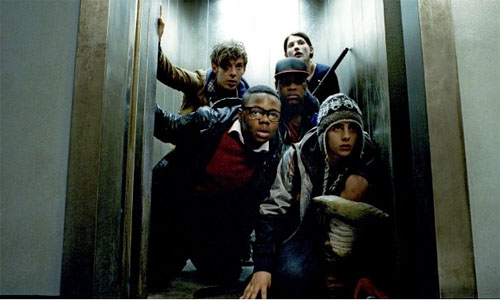 The summer's best alien movie does not involve Harrison Ford or J.J. Abrams, but rather a first-time feature director, Joe Cornish, who's written a story that I've heard described as "Gremlins meets Harry Brown." Ridiculous, but you get the general idea. Attack the Block, produced by Edgar Wright (Shaun of the Dead, Scott Pilgrim vs. the World) first hit Austin during SXSW, where it won the Audience Award in the Midnighters category, and the buzz was deafening. I missed the movie at the fest but found it well worth the wait.
In the area surrounding a South London housing project, Sam (Jodie Whittaker) is walking back home from work after dark and is mugged by a gang of young men. The mugging is interrupted by a strange creature thudding onto the roof of the car; gang leader Moses (John Boyega) automatically attacks the creature, kills it, and decides it's valuable. It turns out that it is, in a way -- suddenly more aliens are alighting from the sky, heading for their London neighborhood, and targeting the block of flats where Moses and his gang -- and Sam -- all live. And you should see the teeth on these creatures.
It would be all too easy for the teenage boys to be either interchangeable or each with one distinguishing quirk so we don't get them mixed up. But writer-director Joe Cornish and the cast do a great job together of making the kids seem like actual people, more so as the film progresses. The pair of even younger boys seem like overkill when they first appear but fit in perfectly by the end of the movie.
Attack the Block is a monster movie with an excellent blend of suspense and comic relief. Moses and his friends not only have to deal with predatory aliens, they're also in trouble with the police for mugging Sam, and their relationship with the flat block's drug lord is growing unstable. Other affected residents in their housing block include their girlfriends and a genial small-time drug dealer, Ron, delightfully portrayed by Nick Frost. Only the character of Sam seems somewhat vague and inconsistent, but not enough to mar the movie overall.
During SXSW, I heard a number of complaints that the London accents were often difficult to understand -- the young men tend to mumble a lot and some people felt that subtitles might be a good idea. I think that would be distracting. It's true that I couldn't always understand every single line, but it wasn't important. Don't worry about it, and of course it helps to try to see the movie in a theater with the best audio possible. (In Austin, Attack the Block is playing at Alamo Drafthouse on South Lamar, which generally has very good sound quality.)
Attack the Block is great summer escapist fare -- a solid action movie with intelligent scripting behind it. Skip the 3D offerings and check out this movie instead. One final note: The movie may center around a band of kids but it is quite definitely rated R; there are drug references galore, and it's violent but not graphic enough to bother my squeamish self.