SXSW 2008: Updated Guide to Film Fest Venues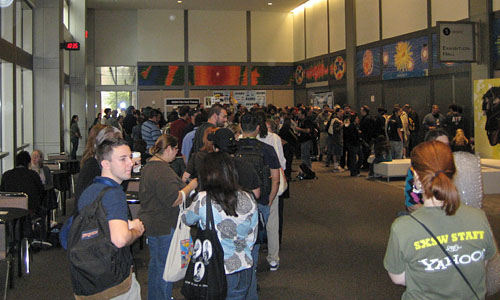 Note: A 2010 guide to SXSW Film Fest venues is now available.
You might remember Slackerwood's handy SXSW film-fest venue guide from 2007. We've compiled an even handier guide for 2008. The theaters have changed slightly, primarily due to the downtown Alamo Drafthouse location moving to Alamo Ritz. (The old Drafthouse venue is now a trendy nightclub ... where the Facebook Film Garage is being held during SXSW. Very strange.)
These guidelines to Austin theaters playing SXSW movies are intended to help visitors who want to maximize the number of films they see in a day, or who want to make sure they're able to find decent meals between or even during the movies. The most important thing to remember is that you can't walk between all the SXSW venues and you shouldn't try. To get to Alamo on South Lamar or even the Dobie, consider finding a cab, bus, friendly Austinite with a car, or even renting a bicycle to use during your time at the fest.
If you're interested in taking the bus (which costs a whopping 50 cents per trip, or $1/day), Capital Metro's Route 3 can take you from downtown to Alamo South Lamar, and you can take Route 1/101 or the Red Dillo (which is free) from Congress Ave. to the Dobie. I recommend using the Trip Planner to figure out your schedule, and allow plenty of time especially during rush hour.
Here are the six SXSW 2008 theaters, with info on location, nearby food, and nearby wireless access. If I've missed some tips and tricks (or good nearby places with wireless), please add a comment or email me and I'll be happy to update this guide.
The Paramount -- 713 Congress Ave.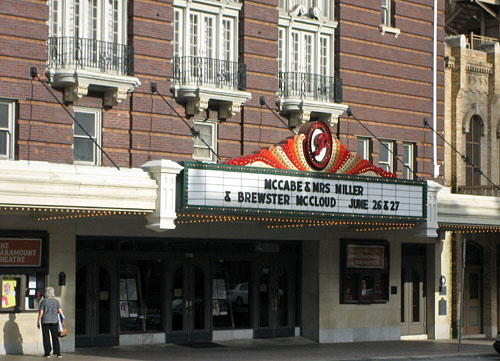 The Paramount is nearly 100 years old and hosts the official opening-night and closing-night SXSW films, as well as other SXSW movies likely to draw large crowds. The theater can seat about 1200 people, and it does fill to capacity for splashy premieres and local favorites. Lines for the films form outside the theater and wrap in both directions down Congress. The lines can look deceptively long, so just because a line is stretched around the block and into the next street doesn't mean you won't get in.
The Paramount is the venue where you're most likely to find security checks during festival screenings for movies that are associated with big-name studios. If you're going to see one of those films (likely candidates this year are 21 and the Harold and Kumar sequel), don't bring your camera even if you've got a press pass for it.
Pros: It's a big enough theater that if you have a film badge, you are almost certainly going to see the movie. While you're waiting for the movie to start, have a look around the theater -- it's lovely. Also, this is the best venue for celebrity spotting.
Cons: The seats are narrow and close together, and since the theater often fills up, you may feel a little too friendly with your neighbors. Balcony seats have cramped legroom but offer good visibility if you're short. Don't sit on the front row of the balcony; your view will be impeded by a big iron bar. (Some short people also recommend sitting in the very last row of the orchestra seats, but I didn't like that as much.) The house lights are a little dim if you're trying to take notes beforehand.
Parking: The Paramount doesn't have its own parking -- you can park in nearby garages or, on weekends and after 5:30 on weekdays, on the street in metered spots. Once SXSW Music starts, downtown parking lots become amazingly expensive at night. (I saw $5-7 parking turn into $15-18 parking, which is ridiculous.) I like parking at St. David's garage (E. 7th) if I want to avoid the hassle of finding a spot on the street, but they jack up the prices after the music fest starts just like everyone else.
Distance: You can walk to ACC and Alamo Ritz. It's about a mile to the Dobie, with a gentle incline -- you can catch the #1/101 bus or the Red Dillo at 8th and Congress and ride to Guadalupe and 21st, where the Dobie's located.
Food and Beverages: You can buy bottled water, soft drinks, and beer and wine. Food is limited to popcorn and candy. Nearby dining options include Roaring Fork in the Stephen F. Austin hotel next door; Silhouette, the Japanese restaurant across the street (with happy hour sushi!); and Jamba Juice down the block has vitamin C-filled smoothies if you're worried about getting sick. Sadly, most nearby fast-food places are closed at night (except Wiki Wiki Teriyaki), and many restaurants in the area are closed on Sundays.
If you're carrying your own bottled water (a good idea if the weather is warm), stow it in your car/hotel or conceal it in a backpack or laptop bag before you get to the theater entrance. The Paramount ushers take pains to ensure that no outside food or drinks enter the theater (although they won't check inside bags and purses). They can also get strict about camera usage, too.
Wireless: Walk a block towards 6th Street to The Hideout, or a couple of blocks to Schlotzky's (closed on Sunday). Alternatively, walk a couple of blocks towards the Capitol to Little City Coffeehouse (which has good sandwiches).
Alamo Ritz -- 320 East Sixth Street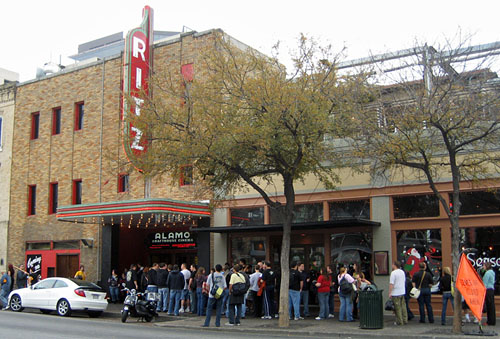 If you haven't been to the brand-new Alamo Ritz yet, you're in for a treat. It's in walking distance to ACC and serves food and beer. The theater has two screens, both of which will be used for SXSW this year. The smaller theater seats about 90, and the larger one up to 200, depending on how balcony seating is arranged. I don't know how the lines will be managed this year since the theater is new.
Pros: The pre-show clips are usually fun. And did I mention you can order food and beer (and yummy root-beer floats)? If you've never been to an Alamo Drafthouse, you really need to see at least one movie here. The new seats are comfy except (as of this writing) in the balcony, but the view from there can be pretty cool and makes up for whatever temporary seating they've got at the moment.
Cons: It's not a big venue and seats often fill up fast, especially in the evenings. At the old Alamo, you couldn't go to a 9 pm movie if you wanted to get there early enough for a midnight movie. Don't try to put an empty seat between you and the people next to you -- the waitstaff will ask you to move so seats can be consolidated if the theater fills up. Sixth Street can get a little dodgy late at night.
Parking: Alamo Ritz doesn't have its own parking, and the parking situation is similar to the Paramount. If you're seeing a midnight movie and parking in a garage, make sure it will still be open after the movie ends.
Distance: You can walk to ACC and the Paramount, but not Alamo South Lamar and Dobie.
Food and Beverages: Alamo offers a full menu for lunch and dinner, including an extensive beer menu. If you've never been to an Alamo before, ordering instructions are on the menu, and waitstaff can help you out. (Don't forget to tip if you order anything.) You also can get standard movie-theater fare like popcorn and candy. I recommend the salads because you know you need your vitamins and veggies during the long festival week. Iron Cactus is nearby if you want some Tex-Mex, and if you have time on your hands and want one of the best burgers in Austin, walk a few blocks down Sixth towards I-35 to Casino El Camino (where you should hide your SXSW badge so you're not mocked as a tourist).
Wireless: The theater has wireless, but the lobby isn't very big and SXSW volunteers might shuttle you directly into the theater from the line on the street. I can't imagine there's a quiet coffeehouse where you can work nearby on Sixth Street -- anyone have any ideas?
Alamo Drafthouse South Lamar -- 1120 South Lamar
Alamo South Lamar may be my favorite SXSW film-fest venue in terms of comfort and convenience, since I'm a local with a car. The six theaters are various sizes: I think the largest can seat about 200 people. I don't know which two screens will be used for SXSW (and it may vary by day). Despite the fact that Alamo South is not in walking distance from ACC, the theaters will fill up, especially for locally made films. Lines for the movies may be inside the lobby or outside depending on the size of the crowds and the weather.
Pros: Like Alamo Downtown, pre-show clips, food, and beer. There are little lights under the tables in front of your seat, which are meant to make menu-reading easier but are also helpful if you're taking notes on the film. Sometimes Alamo puts a tray full of glasses of ice water near the entrance to a specific theater, which can be a real blessing during the festival (hint to Alamo: please do this again, at least during fests).
Cons: The big festival crowds can sometimes tax this Alamo's normally smooth kitchen service. If you intend to order food, get to the theater early and order as soon as possible. Avoid the first two rows of the theater unless you like craning your neck. If you don't have a car, the distance from downtown is a drawback.
Parking: Alamo South Lamar is part of a strip mall with a big parking lot. If the lot looks full, you can park behind the Alamo in a smaller lot.
Distance: You can't walk anywhere from here unless you're into hiking. But bus service is available. A cab from here to downtown should not be very expensive, but bear in mind that cabs won't be hanging around the theater -- you'll have to call one yourself. Make sure the cab service has your name so they won't drive off with some other film geek.
Food and Beverages: The menu is similar to Alamo Ritz. The milkshakes are my favorite in Austin. A few restaurants are nearby, too: Suzi's Chinese Kitchen and Casa Garcia are in the same strip mall, and the super-trendy (and pricey) Japanese restaurant Uchi is across the street and down about a block.
Wireless: Wireless is usually available in the lobby and in the theaters, although the signal is sometimes intermittent. Someone needs to open a coffeehouse in walking distance from Alamo South Lamar for a post-movie hangout. The closest and easiest to find coffeehouse with free wireless is probably Flipnotics, on Barton Springs Road about a block west of Lamar, but that's not walking distance.
Dobie Theatre -- 2025 Guadalupe in the Dobie Mall
The Dobie is a Landmark theater located in Dobie Mall near the UT campus. Dobie has four screens, each one with a different themed decor: Egyptian, library, Gothic, and Art Deco. I believe the Egyptian is the largest, and it is usually used during festivals because it has a separate entrance directly into the mall. (I don't know its capacity ... anyone?) I like the Dobie in theory, but in practice I don't go there often because the seating is so messed up, especially for a short person, and I dislike the parking garage.
Pros: Because "smaller" movies and shorts collections are shown here and the venue isn't as central, it's often a little easier to get a seat. The lines for movies are inside the mall, which means they're covered and climate controlled, but you can't smoke while you're in line.
Cons: The theaters are weirdly shaped and some of the seats are at an angle. (I keep wondering if the theaters were designed by chiropractors.) Get to the theater early so you won't have to sit sideways or in the front row. Also, there's very little incline so if you're short, see if you can grab an aisle seat.
Parking: Parking is free in the Dobie garage if you get your parking ticket validated at the theater. If you are planning to see more than one movie, ask for the five-hour validation stamp so you don't have to move your car. The garage can seem a little scary at night, although I've never had any problems there.
Distance: Avoid walking here from other venues, but a number of downtown buses (1/101/Red Dillo, among others) stop at nearby 21st and Guadalupe.
Food and Beverages: The concession stand offers gourmet movie-theater snacks in addition to the usual popcorn, candy, and sodas. A food court adjacent to the theater has lots of fast food options, and We Fuse in the basement has lovely salads and bento meals. Most of the better food-court stands are closed on Sundays, and some may be closed all week because it's Spring Break at nearby University of Texas. If time permits, try leaving the mall and crossing Guadalupe for Veggie Heaven and Coco's Cafe.
Wireless: I'm not entirely sure -- is there a coffeehouse nearby with wireless? Anyone? A Schlotzsky's nearby might offer free wireless.
Austin Convention Center (ACC), Exhibit Hall 5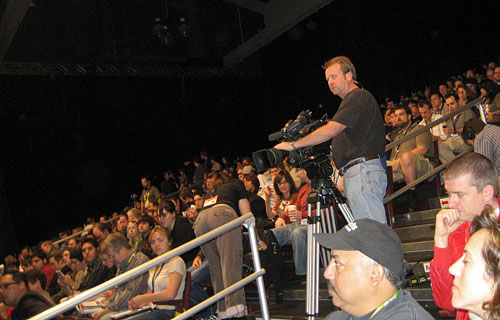 The ACC "theater" is actually a temporary setup in a large room at the convention center. It seats a surprising amount of people and I've rarely seen a full house. During the film conference, this is the most convenient theater of the festival.
Pros: The location is unbeatable during the film conference and the theater rarely fills to capacity, especially once the film conference ends. You feel like you're right there in the heart of the festival with all the crowds. Although the seats aren't perfect, they're on a good incline and short people should have no problem seeing the screen.
Cons: The seats are a little close together and not very comfortable. You don't get the movie-theater vibe that you would with the Paramount ... this feels more like a big classroom. Also, once the music festival starts, the area outside the theater gets even more crowded than usual.
Parking: You have to pay to park near ACC unless you can land one of the increasingly rare street spots.
Distance: You can walk to the Paramount and Alamo Ritz, and you're right in the middle of the film conference. If you've got a room at the Hilton, you barely have to walk at all, you lucky dog.
Food and Beverages: You're limited to whatever's available at the convention center, which isn't much. Fortunately some restaurants are nearby, like Iron Works, PF Chang's, and Mongolian BBQ. These places will be swamped at lunchtime.
Wireless: When the conference is going on, the wireless lounge is usually right next to the theater.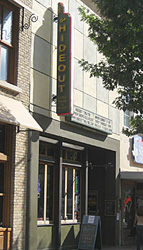 The Hideout -- 617 Congress Ave.
A few movies are showing at The Hideout, a combination coffeehouse and performance venue. The theater seats about 75. I've never seen a line form for Hideout movies during SXSW. Even if you aren't seeing a movie here, it's a good place for coffee-and-wireless, but the coffeehouse area can get extremely crowded at night.
Pros: Good coffee and other caffeinated beverages. You can sometimes get a bagel or other snack here for emergency sustenance when all the other nearby restaurants are closed.
Cons: It's not primarily a movie theater and sometimes there are problems with the digital projection.
Parking: Downtown (see Paramount and Alamo Ritz listings).
Distance: It's a block away from the Paramount, and also convenient to Alamo Ritz and ACC.
Food and Beverages: Lots of coffee drinks, frappes, tea, etc. They also have baked goods and snacks, depending on the time of day (the earlier you go, the better the selection). The Espresso Rocket Shake is delicious but I was asked a couple of years ago not to drink any more of those because I'm intolerable afterwards.
Wireless: Free wireless, yay. And you can sit on a nice comfy sofa with a tasty beverage while you use your laptop, if it's not too crowded.