aGLIFF 2010 Daily Dispatch: Day Six, or Prince Poppycock and I are BFFs Now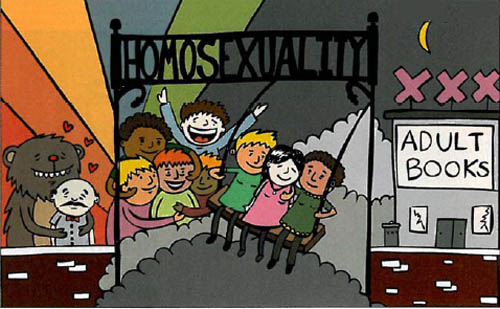 At the end of my third and final day at aGLIFF, I'm glad I was able to see so many interesting films. I had a great time at the festival and learned a lot; even the pre-show videos were very educational. For example, I've now memorized the entire gay alphabet (C is for closet, L is for leather). And after seeing a certain pre-show clip from America's Got Talent a whopping seven times, the inimitable Prince Poppycock feels like an old friend. (Even better, he's given me a lot of thoroughly impractical Halloween costume ideas.)
The first screening of my final day was an eclectic one. First up was the world premiere of an Out Youth public service announcement created by the Queer Youth Media Project Class of 2010. QYMP, a collaboration between aGLIFF and Out Youth, is an intensive summer filmmaking workshop for queer and ally youth. Several students worked on the PSA for most of the summer under the direction of aGLIFF Programs Director Jake Gonzales, and the result is outstanding. With its great interview footage and professional-looking cinematography and editing, the PSA explains Out Youth's mission very effectively.
Following the PSA were the My Queer Movie Competition short films, all very watchable. My favorite was Heart of the Matter, a very funny parody of a 1980s marriage counseling video. In the film -- which perfectly nails its 1980s video look, from bad hair to blocky fonts -- a husband and wife marriage counseling team explains how to strengthen a marriage while obviously in denial about their true sexual orientations. My second favorite was Bereft Left: A Very Brief, Very American Tale, a clever satire about a left-handed young man who tries to convert to far more godly right-handedness.
My final aGLIFF screening was a riveting double-feature of Faith of the Abomination and Fish Out of Water. The two faith-related documentaries played to a sold-out house, and with good reason: They're both fascinating examinations of Christianity's view of homosexuality.
Made in Austin, Faith of the Abomination is the story of a lesbian couple going undercover as a straight couple to infiltrate the Victory Christian Center, a large, anti-gay evangelical church in North Austin. Filmmakers (and actual ministers) Ceil Melton and Han Nguyen pose as husband and wife CL and Cammy Morrison, a Christian missionary couple visiting from Vietnam. The congregation immediately welcomes them into the fold, and they quickly ingratiate themselves with the church leadership, including the perpetually fundraising (and perpetually homophobic) pastor.
Faith of the Abomination is guerrilla documentary filmmaking at its best, complete with grainy hidden camera footage and gotcha! moments. But while giving the church members a thorough and well deserved punking, Melton and Nguyen take great care to avoid portraying them as one-dimensional, gay-hating enemies in a simplistic us-versus-them battle. The congregants come across as actual human beings whose disdain for gay people stems from fear and ignorance more than hate. Faith of the Abomination is a cut above most documentaries of its type because while it regards its subjects with a healthy amount of righteous anger, it also treats them with an unexpected humanity.
Fish Out of Water (pictured at top) is an extremely informative look at what the Bible actually says about homosexuality. It's especially enlightening for heathens like me who proudly profess our complete ignorance of all things Biblical. Via interviews with Biblical scholars (albeit mostly very liberal ones), Fish Out of Water methodically dissects -- and handily debunks --the most common Biblical arguments against homosexuality. The film explains in simple terms which verses actually refer to gay sex (there are only seven, out of nearly 8,000 total), what the verses say, and what -- at least according to the Biblical experts interviewed -- they actually mean.
The film also features interviews with members of the GLBT community from many walks of life, who discuss their views on religion, sexuality, and society's increasingly absurd condemnation of all things gay. Fish Out of Water is snappily edited, endlessly instructive and often bitterly funny, combining live action and clever animation to make many important points about the difference between pop-cultural Christianity and actual religious scholarship. My only criticism of the movie is that it's a bit strident at the end, pounding home its message with a somewhat lecturing tone. But this is forgivable in an otherwise even-handed documentary.
So, my aGLIFF experience ended on a definite high note, and I look forward to returning next year for more films by and for the GLBT community. Hopefully, Prince Poppycock will have something new for us as well.