Movies This Week: Superheroes, TX Book Festival, and Salesmen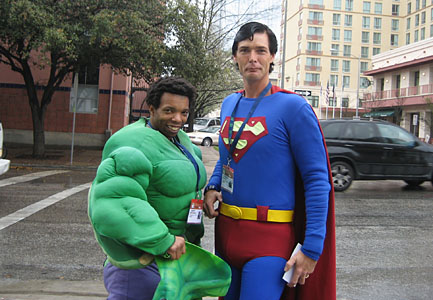 ­
­
Wednesday seems like the weirdest day of the week to be doing Movies This Week, but that's just how this week has been. I suppose I should have a spooky­ Halloween theme, but aren't you seeing that everywhere else, anyway? Here are a few of the more interesting screenings and film-related events going on in Austin for the next week.
Alamo at the Ritz opens Thursday night and has programming scheduled on both screens throughout November. Mostly they're showing The Darjeeling Limited and the documentary Confessions of a Superhero, which premiered at SXSW earlier this year. The 10:30 pm Saturday screening of Superhero will be attended by Christopher Dennis (the Superman pictured above) and producer/DP Charlie Gruet.
Galaxy Highland is still show­ing The Nightmare Before Christmas in 3D daily -- I'm not sure I want to see a 3D version of this film, since I liked the original stop-motion just fine. Is it really an improvement on the original? Anyone? [More after the jump.]
The "Tromatic Thursday" series at Alamo Lake Creek is still going strong, with weekly free screenings of Troma films at 10 pm. This week's film is one I hadn't heard of before, Parts of the Family from 2003. It's got Ron Jeremy in it!
Wristcutters: A Love Story opens Friday at Arbor.
Texas Book Festival has several movie-related events this weekend. John Pierson interviews Tom Perrotta, author of Election and Little Children, at 2 pm on Saturday in the House Chamber of the State Capitol. In addition, Alamo Ritz will screen Little Children at 7 pm that night. Actress Marlee Matlin will be reading from her latest book on Saturday at 3:30 pm at the Family Life Center, 1300 Lavaca. And although this is not strictly film-related, actor Roscoe Orman, best known for playing Gordon on Sesame Street, will be reading from his children's book Ricky and Mobo in the Children's Tent at the Capitol at 3:30 on Saturday. All events are free except the Alamo screening.
Austin Cinematheque is showing Salesmen, the 1968 documentary co-directed by the Mayles brothers and Charlotte Zwerin. The free screening takes place Monday at the Texas Union Theater (UT campus) at 7:30 pm.