Review: City Island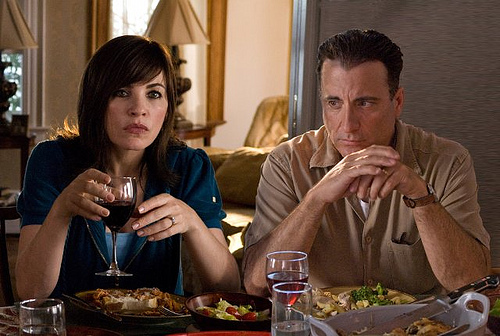 In the comedic drama City Island, writer/director Raymond de Felitta pairs Andy Garcia and Julianna Margulies together as Vince and Joyce Rizzo, a couple that cause more damage by hiding their aspirations than by opening up to one another. Interestingly enough, in The Man from Elysian Fields, Garcia portrayed a man hiding his secret career as a male escort from his wife, played by Margulies. However, City Island is much lighter and palatable fare and with a broader appeal to viewers.
The Rizzos appear to live a mundane life on the outskirts of the Bronx on City Island. As a corrections officer, Vince Rizzo (Garcia) takes particular interest in young ex-con Tony Nardella (Steven Strait) and decides to bring him home in his custody. Turns out that Vince has many secrets that he keeps from his wife, most importantly that he has an illegitimate son -- guess who? -- and that his weekly poker game is really an acting class. He's afraid of his wife Joyce's (Margulies) temper, although his deception backfires in that she thinks he's having a affair. Meanwhile, his daughter Vivianne (Dominik García-Lorido) is hiding the fact that she lost her college scholarship and is working as a stripper to earn money for school.
Vince's drama coach (Alan Arkin) asks students to find a partner and reveal their biggest secret to one another. As Vince reveals his deepest dark secret about his son to Molly (Emily Mortimer), she encourages him to take chances. Vince's actions set off a farcical chain of events, and we learn that everyone has secrets that they are hiding.

The ensemble cast of City Island is well-suited in their roles although their Bronx accents seem a bit overdone, Garcia and Margulies are great together. Emily Mortimer as Molly has a genuine charisma that reminded me of a young Audrey Hepburn, but with an undertone of sadness behind her vivaciousness. Ezra Miller as Vince Jr. is could have easily been overshadowed by the other members of the Rizzo family -- including Steven Strait playing the bad boy beefcake Tony Nardella -- but Miller makes the role of a young man with an interesting fetish entertaining and engaging.
However, the comedic highlights of this film are owned by Andy Garcia and Alan Arkin. Garcia had me laughing so hard during a casting call scene that I almost cried, and Arkin's diatribe about "the pause" and Marlon Brando will quickly become a classic. I am quite pleased that writer/director de Felitta provided Garcia with this comedic showcase.
I loved the cinematography as well as the art and set design of City Island. I had no idea until seeing this film that the Bronx had such a quaint aspect to it (no offense to my NYC friends).
City Island is a funny and sentimental story about family and how white lies often just make things worse. A key message that I received from this film is that being truthful with loved ones can be less painful than one might think, but the fear of disappointment is a great motivation for not being wholly honest. Be sure to check out City Island, especially with your loved ones.