SXSW 2010: Jenn's Wrap-Up
It's over, and I've got the post-fest funk. I'm tired, I'm cranky, and missing out-of-town friends already. I just counted; I only made it to 23 films, plus another five I saw in advance. This is my lowest number of films seen at SXSW by far. I do have three more screeners by the DVD player, so I'll break 30 eventually.
Most Memorable Moments? Besides the beer in the lap, I'd have to say it's a tie between making the Thunder Soul guys tear up with the standing ovation at screening #3, and the crazy ranting woman at Red White & Blue screening #2.
Unexpected Favorite? Thunder Soul was a surprise because I had no idea that this high school band had not only left such an impression on the musical history of the U.S., but that the double-disc reissue of their music is a perpetual strong seller for Waterloo Records. As it happens, the documentary was filmed at just the right time. Powerful stuff. And it was one of those I was going to skip, but too many people suggested it.
Stuck in my Memory? The Happy Poet, hands down. I can't stop thinking about it. I'm a proud Austinite, so I'm primed to give an Austin film a chance. But you know what? I liked it a lot on its own merits. Until I saw Thunder Soul, it was my favorite film of the fest, because it made me smile and stuck with me. Paul Gordon's story and performance really resonated with me, I was rooting for Bill and his clueless perseverance of wanting something better for himself and others was disarming. The Happy Poet is a great example of the power and value of "small" films worthy of greater attention.
Keeping it Weird? Mars director Geoff Marslett, hands down (pictured right). I liked the guy just talking to him at a pre-fest interview brunch, as he's articulate and forthcoming. Talking to him during the festival, and seeing him first in blue heart sunglasses and then in that bedazzled onesie, proclaiming it had essence of Duplass, well, Marslett is certainly keeping Austin weird. Plus he's making fun movies to boot. No wonder he wins best teacher awards at UT. Got some great photos of the guy, including the ones already posted in my SXSW dispatches.
Regrets? That I couldn't clone myself at least twice over. Film-wise, I regret missing the screenings of Cherry and Skeletons and Outcast, three films I really wanted to catch. With 134 features running in 8 venues, there are just too many films to see even with many having two encore screenings. And missing the Kashmere Revival Band play at the Chronicle party. I can't say I regret missing Serbian Film, although I do want to see it. As several said, it cannot be unwatched, and I think that kind of movie requires a certain mood to appreciate. And not being extra careful to save a half-hour audio interview with Earthling director Clay Liford, especially after having to reschedule. Non-film-wise, that vodka on Tuesday night (who am I kidding, it was Wednesday morning). I should know better, as I'm not much of a drinker even in festival mode. Wonder why I had to reschedule? Remind me next fest if you see me in a karaoke room with vodka.
Best SXSW Planning? The TBDs, although I only made it to the first of the Centurion screenings, which were the only "secret" ones (other than the no-show). I'm glad to see that SXSW planned room for additional screenings of popular titles, and didn't get fussy about the "secret" component. I hope they plan more TBDs for next year's schedule.
Worst SXSW Planning? Not keeping a shuttle going for Film. I know Music takes over most of Austin as of Wednesday, but people were still trying to move between downtown and Lamar. It would be nice if next year it at least moved between the Paramount and Lamar.
Best Promotional Schtick? Kick-Ass promotions were relentless, from the penile skylight to the matching keychains. If The Happy Poet had only had half-sandwiches in the cart and pushed it around on Sixth Street, it would have been perfect. Unfortunately, it was hot and they'd have run out of half sandwiches quickly.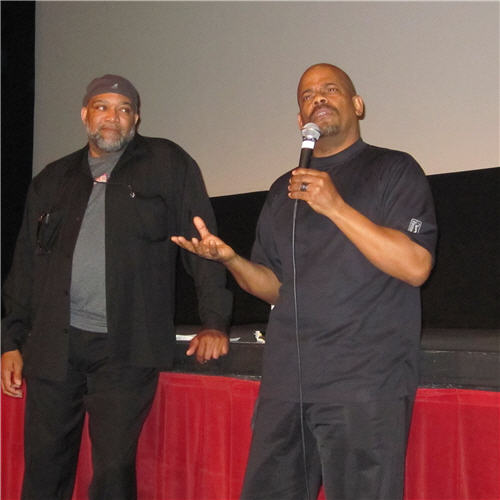 Favorites? Thunder Soul and The Happy Poet are my top two. The Loved Ones and Tucker & Dale vs. Evil are next but I was bound to like them as they're horror-comedy. I'd already seen Kick-Ass and Micmacs, so I'm not including them. Honestly, I only saw two stinkers, and considering this isn't Jenn-Fest, that's a great ratio.
Austin/Texas Film Scorecard? B+ easy. I saw The Happy Poet, Mars, Red White & Blue, Earthling, Thunder Soul, and even non-SXSW film Between Floors and they're all worthy of note, and very diverse. That's proof that the film scene in Austin hasn't lost any creative edge.