Big Beef at Fantastic Fest 2010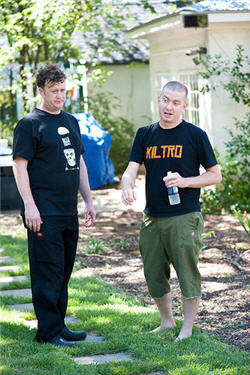 It's barely February, and Fantastic Fest 2010 already has news! A few days ago, John Bullington let the cat out of the bag about a feast event -- or should I say the cow -- when he mentioned on Facebook he is going to be cooking a local, grass-fed, 600-pound cow for Fantastic Fest in September.
Bullington, the executive chef at Alamo Drafthouse South Lamar, has been enticing palates at the Alamo for years, with movie feasts that sell out in hours. He also flexes his culinary skills a bit with special events at Fantastic Fest, particularly the annual filmmakers luncheon and dinner events like the Truffe truffle feast in 2009. A lot of planning goes into these events, and now he's got less than eight months to plan a carnivore's delight of a feast.
In the picture on the left, Bullington, along with Fantastic Fest co-founder Tim League, may very well be discussing another crazy plan for the festival. Be assured that when these two pair up and mix film and food, no holds are barred.
Chef Bullington's plan for the 2010 fest is not just a roast beef. He intends to roast the cow whole, which will take 17 hours over a huge firepit, "Argentinian style." The cow has already been picked out, and when I spoke with John on Friday, he joked about getting pictures of the cow and putting it on t-shirts.
Based on the already overwhelming response, pigs and lamb will probably added to the menu to make sure there will be plenty of meat to go around.If you remember the feast at the premiere of Seventh Moon at Fantastic Fest 2008, despite having two whole roasted pigs, that ran out quickly, so Fantastic Festers are definitely carnivorous.
One thing you can be sure not to see at this special ticketed event is ranch dressing. In the Facebook thread, John admitted that it "grosses" him out, and he suggested aoli or mustard instead. The animal will start at about 1400 pounds, but not all parts are usable. I'm wondering how much of the offal will be prepared, and if there will be a bull testicle-eating ceremony to go along with the other traditions of Fantastic Fest.
Slackerwood will be following this story up until the last bite of the beef is eaten, so watch this space. John assured me this will be well documented, so expect to see updates on the Fantastic Fest blog as well.
[Photo credit: David Hill.]