DVD Review: Gretchen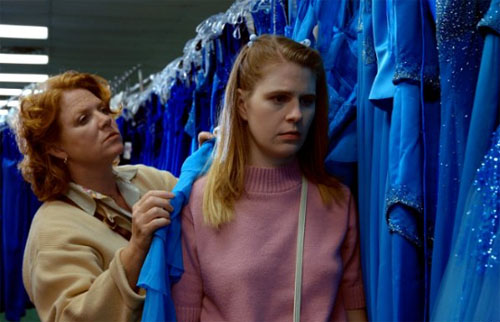 After wishing for more than three years that Gretchen would become publicly available so I could persuade people to see it, I'm happy to report that the locally made feature is now available on DVD. Watchmaker Films, with its usual attention to detail, has given the film a very nice release with some meaningful extras.
Gretchen premiered in 2006 at SXSW, then won director Steve Collins the Best Dramatic Feature award at LAFF that summer. It's appeared on the Sundance Channel and was screened here as part of Austin Film Festival's "New Directions Summer Film Series" this year.
The title character (Coutrney Davis) is a tragically awkward high-school girl, out-of-step with the world in her turtlenecks and heavy sweaters and plastic hair ties. Gretchen likes Ricky Marichino (John Merriman), who envisions himself as a rebellious biker dude, but he treats her like dirt and eventually her temper flares in a destructive way. Further adventures land her with similar guys, and she eventually has to decide how she wants to deal with them and with herself.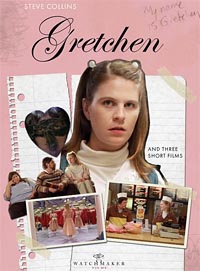 Although this is a locally made indie film, you might spot some familiar faces, most notably Stephen Root (in a horrible hairpiece) as Gretchen's dad and Becky Ann Baker (Freaks and Geeks, Kings) as her mom. (A year later, Baker would play Gwen Stacey's mom briefly in Spider-Man 3; I like her better here.)
I reviewed Gretchen for Cinematical after seeing it in 2006 -- you can read that review here. At the time, I noted that the film "captured an authentic teenage experience, one without easy answers and a tidy, amusing resolution." I also pointed out that "Gretchen could totally kick Napoleon's ass," and am still slightly annoyed that people went ga-ga over Napoleon Dynamite, which I disliked, while this far better film has slipped through the cracks.
When I saw the film again this summer, I was struck by how much I liked the score, from local musician/composer Graham Reynolds. My husband felt Reynolds relied a little too much on Pachelbel's Canon in D Major, but I liked the way he played with it throughout the movie. And once again, I adored the prom-dress scene, shot so beautifully by Austin cinematographer/filmmaker P.J. Raval.
The DVD features are not extensive but they're very appropriate. You get three short films that Steve Collins directed before Gretchen, all starring Merriman and Davis, that are the inspirations for the feature film:
Lonelyland -- My favorite of the three shorts, this sweet, funny film stars Merriman and Davis as two in a group of lonelyhearts. The music is by Graham Reynolds, and the cast includes local filmmaker T'Chaka Sikelianos (A Yeti in the City) and actress Lee Eddy, who also appears in Gretchen (in the mask from Gretchen and the Wolf Wizard).
Gretchen and the Night Danger -- This is the short film on which the feature film Gretchen was most directly based, about Gretchen (Davis) and her encounter with Ricky (Merriman). Raval also shot this one. The short won awards at Cinematexas in 2003 and at SXSW 2004. I loved seeing the old Encore Video location back when it was by my house.
Gretchen and the Wolf Wizard -- As Collins explains in his commentary, this is not so much a short film as it is a collection of scenes that were used to help develop the characters in Gretchen. Davis is the title character, but this time Merriman plays Nick Rangoon, played by Macon Blair in the feature.
Collins provides commentary on all three shorts, explaining how they tie in to the feature film Gretchen. The commentary is smart and informative, especially on Gretchen and the Night Danger. When the feature Gretchen aired on the Sundance Channel, Merriman live-tweeted about the movie on Twitter; normally I dislike live-tweeting, but Merriman shared funny anecdotes and tidbits of info in 140 characters. I wish they'd found a way to include those tweets as optional pop-ups, or had Collins and Merriman and Davis doing a commentary track together.
The DVD package does include a 16-page booklet with some interesting essays, including one from Steve Collins about how he was inspired to make Gretchen, and an interview of Collins by filmmaker/former UT instructor Spencer Parsons (I'll Come Running, another film I'd like to see on DVD soon). But of course the highlight of the DVD is the movie itself.
Austin connections: Gretchen and the three shorts were shot around Austin and Central Texas, with a primarily local crew. Writer-director Collins went to UT grad school along with Davis and Merriman.
You can buy the Gretchen DVD on Amazon. However you find it, I hope you'll give this lovely and fascinating film a try.