AFS Essential Cinema Celebrates Wales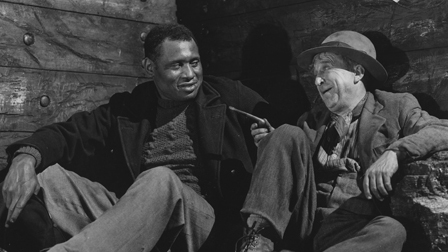 The next Essential Cinema lineup from Austin Film Society starts Tuesday night, with a focus on Welsh cinema. For those of us whose Welsh pop-culture exposure is currently limited to episodes of Gavin & Stacey and Torchwood, this late fall lineup gives us a chance to experience a little more of the country's cinematic culture. SXSW programmer Jim Kolmar is the guest curator for this series.
From November 13 through December 18, the movies in "Music in the Blood, Poetry in the Soul: Wales on Screen" will screen each Tuesday night at Alamo Drafthouse on South Lamar. Tickets are free for AFS members at the LOVE level, $5 for members at the WATCH or MAKE level, and $8 for general admission.
Here's the lineup:
Patagonia (2010)
Tuesday, Nov. 13, 7 pm
This film pairs the stories of a couple journeying to a Welsh settlement in Argentine Patagonia and an elderly Welsh-Argentine woman traveling to Wales. The movie is filmed in both Welsh and Spanish languages (and has English subtitles).
Sleep Furiously (2008)
Tuesday, Nov. 20, 7 pm
Music by Aphex Twin accompanies this documentary about a Welsh village facing an uncertain future.
The Proud Valley (1940) (pictured at top)
Tuesday, Nov. 27, 7 pm
Paul Robeson stars as David Goliath, an American who comes to work in the mines in Wales. Robeson had an amazing voice, and it seems this movie serves as an opportunity for him to make a statement for social change as well as showcase his singing chops. Directed and co-written by Pen Tennyson, descendant of the poet.
Tiger Bay (1959)
Tuesday, Dec. 4, 7 pm
Hayley Mills makes her screen debut in this noir thriller (which stars her papa John). A pre-adolescent tomboy witnesses a murder in Tiger Bay (aka Cardiff Bay).
Cymru Fach (2008)
Tuesday, Dec. 11, 7 pm
This 2008 satire depicts sexual politics in 21st century Wales, like a more modern (and Welsh) take on Ophuls' La Ronde.
Only Two Can Play (1962)
Tuesday, Dec. 18, 7 pm
Based on a novel by Kingsley Amis, this comedy stars Peter Sellers as a married librarian trying to get it on with a local councillor's wife.
[Image via The Criterion Collection]