Want Passes to 'Silver Linings Playbook' Preview?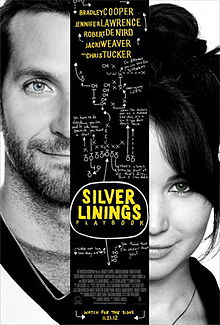 Slackerwood is giving you the chance to watch the movie Silver Linings Playbook next week, before it opens in Austin ... at no cost. The latest film from David O. Russell (Three Kings, The Fighter) will have a preview screening on Monday, November 12, at 7 pm at Alamo Drafthouse on South Lamar. We have a limited number of admit-two "e-tickets" to give away -- keep reading for details on how to get one yourself.
After the jump, you'll find a promotional code and a link to the Gofobo website where you can enter the code to get an admit-two pass. This is a first-come, first-served pass and seating is not guaranteed. If you've been to preview screenings, you know that often more tickets are given out than there are seats, so you'll want to arrive early to stake out a good spot in line. This can be especially true at Drafthouse preview screenings.
Silver Linings Playbook, which won the marquee feature audience award at Austin Film Festival last month, will open in local theaters on Nov. 16. Austin-American Statesman critic Charles Ealy caught it at AFF and wrote, "It looks like this might be one of those rare, great romantic comedies."
Bradley Cooper plays a teacher who moves back in with his parents after experiencing marital troubles. Robert De Niro, Julia Stiles, Jennifer Lawrence and Chris Tucker also star. Several of us at Slackerwood are definitely looking forward to seeing this one. J.C. saw it at AFF too and tells me that "It's a really wonderful film. Jennifer Lawrence and Bradley Cooper have amazing onscreen chemistry. It's also great to see Robert De Niro in a good role again."
Are you ready to redeem your ticket?
Go to the Gofobo site via this link and where prompted, enter the code SLACKULFJ. You will be taken to a page for the Silver Linings Playbook screening. If you don't have a Gofobo account, you'll need to create one ... and many preview screenings in Austin now use Gofobo, so you can use the account for more free films in the future. After you sign up or log in, you'll get an admit-two pass that you should print and bring to the theater with you on Monday. Best of luck!