aGLIFF Polari 2012 Dispatch: Bring on the Swedish Lesbians!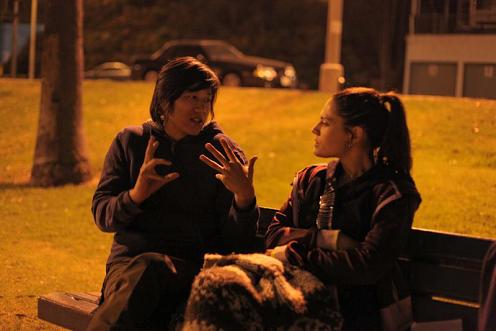 aGLIFF may have rebranded itself "Polari" and changed venues this year, but the vibe remains the same: enthusiastic crowds, interesting films and some familiar indie film celebrity faces wandering around the Alamo Drafthouse. (Look -- there's PJ Raval! Look -- there he is again!)
My festival adventure began Friday night at the much-anticipated headliner screening of Kyle Henry's Fourplay at the Paramount. The hilariously raunchy compilation of four sexually oriented shorts set in four cities (Skokie, Austin, Tampa and San Francisco) was a hit, as expected. The crowd wildly cheered Henry's film and asked lots of great questions at the post-screening Q&A with Henry, co-writer Carlos Trevino, cinematographer PJ Raval (who seemed to be everywhere at aGLIFF Polari) and a host of cast and crew members. The Q&A included some unexpected revelations; I was surprised to learn that my favorite of the four shorts, the one set in San Francisco, was based on a true story of a transgendered prostitute and her quadriplegic client. (Look for my Fourplay review this week.)
The festival had lots of competition for parking spaces on Saturday. Apparently some sort of major sporting event was happening near downtown. (That is, I assume the madding crowds sporting West Virginia University t-shirts were not attending the film festival. Their team won the game, but not seeing Fourplay was their loss.) My day was off to a good start, however, when I found a parking space immediately. (Hint: The St. David's Episcopal Church garage is usually the best deal in town.)
The day's first screening was What's in a Name, a riveting documentary profile of New York performance artist Jon Cory (aka Rose Wood). Directed by Belgian filmmaker Eva Küpper -- who made What's in a Name in film school -- the film portrays Cory's performances and personal life with startling intimacy. It captures his painstaking pre-show transformation from the gentle Jon Cory to the rambunctious Rose Wood in sometimes cringe-inducing detail (in a word, ouch!), censors none of Wood's unique brand of onstage gender terrorism (this is not a family film), and asks plenty of questions about gender identity and stereotypes as Cory questions his own sexual identity. What's in a Name is a terrific documentary by any measure, and its impact and polish are even more impressive given that it's a student film.
What's in a Name screened with The Altered Lives of LaVonne Salleé, an entertaining documentary short about an "altered Barbie" artist who creates hilarious artwork using reimagined Barbie dolls and her wry sense of humor.
Next up was Kiss Me, a Swedish romantic drama about two women, the uptight and soon to be wed Mia (Ruth Vega Fernandez) and the free-spirited out lesbian Frida (Liv Mjönes), who meet for the first time at their parents' engagement party. The two have an affair and fall in love; obviously there are disastrous consequences, as the affair happens shortly before Mia's wedding. Normally, the words "Swedish romantic drama" would warn me to steer clear of, well, Swedish romantic dramas. But I found Kiss Me surprisingly moving and entertaining. It was a bit too low-key and slow-paced at times (if it isn't low-key and slow-paced, it isn't true Swedish cinema), but the excellent performances, radiant camerawork and lush sensuality (the nearly all-female audience seemed to appreciate this; I didn't mind it, either) made for a pleasantly watchable and often captivating film. My only complaint is the predictable crowd-pleasing ending, which tied up the story far too neatly.
Kiss Me screened with The Devotion Project: Listen from the Heart, an earnest documentary short about an Oakland, California lesbian couple whose son suffers from a heart condition and developmental problems. The two women find the child's medical problems challenging, but also enriching.
My last and favorite movie of the day was Sunset Stories (pictured at top), an ensemble film about Boston nurse May (Monique Gabriela Curnen), who, while delivering a cooler full of human tissue to a Los Angeles hospital, crosses paths with her former (and jilted) fiancé, JP (Sung Kang). The two embark on a desperate chase; to say more would ruin the film's multilayered, endlessly interesting story. The micro-budgeted Sunset Stories -- which looks far more expensive than it is, thanks to PJ Raval's terrific camerawork -- is the most inclusive of films, one in which ethnically and sexually diverse characters are in equally diverse relationships. And I enjoyed everything about it; smartly written, briskly paced, beautifully shot and nicely acted, Sunset Stories also is one of the funniest films I've seen in ages.
In a post-screening Q&A, Raval, co-director Silas Howard and star Justin Vivian Bond answered questions from the audience, including one I'm sure was on everyone's mind: How did the filmmakers convince [name of huge movie star redacted to avoid a spoiler] to appear in this low-budget film? Hopefully, Sunset Stories will find distribution, so wider audiences can learn this celebrity's identity.
Sunset Stories screened with Jenny Mi Amor, a short film in which a dozen or so characters discuss their love/hate relationships with the titular Jenny. She's not the woman they think they know.