Movies This Week: September 28 - October 4, 2012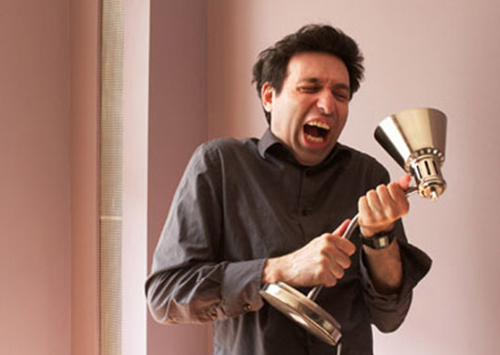 In another week chock full o'new releases, Austin's cinephiles have plenty of choices at the local arthouse or multiplex. I may suspend my usual boycott of megabudget Hollywood fare and see Looper, which is getting great critical buzz. [Editor Jette butts in here briefly to say yes, Don, go see Looper. Go.]
There are, of course, irresistible alternatives. Austin film-scene favorite Alex Karpovsky is gracing us with his new comedy Red Flag (pictured above), in which he plays an indie filmmaker (named Alex Karpovsky) who takes his film (Karpovsky's actual film Woodpecker) on tour after a bitter breakup with his longtime girlfriend. Pursued by an ardent groupie and his own demons, he encounters what the film's press materials describe as "a twisting constellation of fear, sex, and tortured illumination." How could this movie not be interesting? Read Jette's review for details. The screening, presented by the Austin Film Society and Cinema East, is on Sunday at Cheer Up Charlie's at 8 pm. Karpovsky will be in attendance for a Q&A after the film.
What could be better than watching a Presidential debate? Watching it at the Alamo Drafthouse with your fellow Austinites, of course! Lake Creek and South Lamar are showing all three debates; the first one is on Wednesday. The screenings include food specials based on the candidates' favorite dishes. (The food specials are fodder for at least a hundred political jokes, but for once I'll refrain.)
Had enough of politics? Cine Las Americas presents a film starring neither Mitt Romney nor Barack Obama: Chinese Take-Away (Un cuento chino), an Argentinian/Spanish import about an unlikely friendship between a cranky Buenos Aires hardware store owner and a Chinese immigrant he offers to help. Presented as part of the Cine Las Americas Signature Series, Chinese Take-Away screens at Alamo Village on Sunday.
Movies We've Seen
Looper -- In this sci-fi actioner set in 2072, the target of a mob hit is sent 30 years into the past, where a killer awaits. In this case, the killer (Joseph Gordon-Levitt) must execute his future self (Bruce Willis). Apparently Mike likes the film somewhat; in his Fantastic Fest review, he says writer/director Rian Johnson "has executed a master class performance and realized a classic of science fiction that will join the ranks of other classics at the pinnacle of the genre." (wide)
Pitch Perfect -- This comedy centers on a college freshman who joins her school's all-female singing group, which takes on an all-male rival group in a campus competition. In her review, Elizabeth calls the film flawed but fun: "If you are a fan of The Sing-Off on NBC, Pitch Perfect is basically like a dramatized version of that show, but with a far more overproduced sound." (Barton Creek Square, Gateway, Tinseltown North)
Won't Back Down -- Viola Davis and Maggie Gyllenhaal star in this drama -- controversial for its bashing of teachers' unions -- in which two determined mothers strive to reform their children's failing inner-city school. Elizabeth calls Won't Back Down "a sweet film with a strong performance by Viola Davis, but it's somewhat misleading as far as the subject matter (the troubling issue of school reform)." Look for her review this weekend. (wide)
Hello I Must Be Going -- In this romantic comedy, a young divorcée moves back in with her parents and has an affair with a younger guy who rekindles her passion. Look for Jette's review this weekend. (Arbor, Violet Crown)
Other Movies Opening in Austin
10 Years -- In this comedy, high school friends gather for their reunion and realize they still have some growing up to do. The film stars Channing Tatum, who probably removes his shirt at some point. (Arbor, Metropolitan)
Bachelorette -- This comedy is the story of three friends who are bridesmaids at a wedding of a woman they ridiculed in high school. Is Bachelorette this year's Bridesmaids? The critics say it's something more, but imperfect. As the Austin Chronicle's Marjorie Baumgarten says in her review, "The catty and raunchy humor of the first part gives way in the second to greater soul-searching and angst, which is a shame because the comedy gets weighed down by this ballast." (Alamo South Lamar)
Hotel Transylvania -- In this animated comedy, resort owner Dracula (voiced by Adam Sandler) must deal with a non-undead (in other words, living) boy who falls for the count's daughter. Although Sandler didn't write the film, the reviews still range from awful to scathing. (wide)
Liberal Arts -- This comedy centers on a thirtysomething New Yorker who falls for a college student when he visits his alma mater for a professor's retirement party. On the plus side, the film stars the talented and appealing Elizabeth Olsen -- but be warned that it also stars Zach Efron. (Violet Crown)
The Perks of Being a Wallflower -- This indie romantic drama is the story of an introverted high school freshman and two seniors who take him under their wing. (Alamo South Lamar, Arbor, Barton Creek Square)