Movies This Week: August 24-30, 2012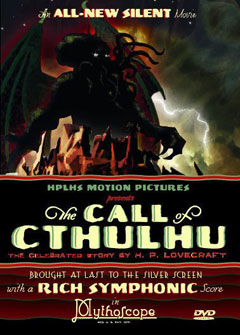 Summer blockbusters are behind us, and it's time to start preparing for Austin's fall film festivals. Fantastic Fest has released two waves of its programming for the September 20 - 27 festival, the Austin Gay and Lesbian International Film Festival (aGLIFF) has announced four of the 96 films to screen October 3-7, and Lights. Camera. Help. has announced the schedule for the annual nonprofit film festival to be held September 12-14. The 2012 Austin Film Festival (October 18-25) should be announcing their first round of films soon.
Austin Film Society presents Avant Cinema 5.5: Two by H.P. Lovecraft on Wednesday August 29, 7 pm, at the AFS Screening Room at Austin Studios. Two films created by the H.P. Lovecraft Historical Society using the self-described "Mythoscope" process of mixing vintage and modern filmmaking techniques will be featured, including Sean Branney's The Whisperer in Darkness and The Call of Cthulhu. The Whisperer in Darkness is based on one of the most frightening Lovecraft short stories that I've ever read -- it follows an assistant professor and scientist as he attempts to investigate the legends of the The Old Ones. His discovery leads him down into a horrific path unexplainable by science.
The Call of Cthulhu is "deemed the best H.P. Lovecraft adaptation yet by some critics and has been praised for its unique construction, being one of a handful of silent films made within the past decade" (Aaron Malazahn, Austin Film Society). Similar in plot to The Whisperer in Darkness, this story centers on the investigations of Francis Wayland Thurston into cult worshipers of The Great Old Ones. Thurston travels the Pacific Ocean with sailors of the Emma, finding horrors beyond comprehension aboard an abandoned boat.
Speaking of AFS, don't forget the special El Mariachi screening/Robert Rodriguez and Chingon concert Thursday night. Tickets are still available. And if that isn't to your taste, Alamo Drafthouse on South Lamar is screening The Incredibles that night with composer Michael Giacchino in attendance.
Movies We've Seen
Hit and Run -- Actor/writer/director Dax Shepard (Parenthood, Brother's Justice) pays tribute to Smokey and the Bandit and other classic car chase movies in his rough-shod style but surprises with realistic emotional drama with the addition of fiance Kristen Bell to his standard ensemble cast. Personally I could do with less gratuitous nudity, read more in my review. (wide)
Celeste & Jesse Forever -- Andy Samberg and Rashida Jones portray a young couple embroiled in their divorce while attempting to maintain a friendship and move on with their individual lives in this romantic comedy. In regards to actress/ writer Jones, Jordan states in her review, "Her deft performance and the beautiful cinematography by David Lanzenberg help lift Celeste & Jesse Forever above the traditional rom-com pack." (Violet Crown Cinema)
The Revenant -- This film defies classification into one particular genre, successfully blending a dark buddy comedy with horror and more. After being killed in Iraq, a soldier is returned home -- and from the dead. With the help of his best friend, he must find a way to survive or risk decomposing. Find out more in my review. (Alamo South Lamar)
Cosmopolis --In David Cronenberg's latest film, Twilight heartthrob Robert Pattinson stars as a Wall Street golden boy who encounters a strange cast of characters as he attempts to cross the city for a haircut. Don says, "While I'm a fan of dark films, Cosmopolis exceeded even my tolerance for movies that explore the bleaker aspects of human nature." Look for his review this weekend. (Alamo South Lamar, Regal Arbor)
Premium Rush -- David Koepp is best known for scripting action blockbusters (Jurassic Park, Spider-Man) but in this film he proves himself capable of directing a stylish adrenaline-charged adventure that'll leave your heart racing. Lead actors Joseph Gordon-Levitt and Michael Shannon stay off the brakes as a New York bike messenger and a dirty cop intent on retrieving a package. Mike calls it "fun, light-hearted entertainment with some great action." Look for his review this weekend. (wide)
Other Movies Opening in Austin
The Apparition -- Todd Lincoln's feature directorial debut portrays the supernatural consequences of a college experiment on a young couple. Early reviews imply that even the lovely and talented Ashley Greene (Skateland, Butter) may not be able to save this movie from going to video within its first week. (Regal Gateway 16, Cinemark Tinseltown 20)
Thunderstruck -- Thanks to the classic magical "switch" movie Freaky Friday, filmgoers have been subjected to unbearable copycats including 1988's Vice Versa and now this film starring NBA superstar Kevin Durant as -- guess what? Durant magically switches his "A-game" talent with a 16-year-old fan, resulting in wins for the previously uncoordinated high-school student. Meanwhile Durant's basketball career and his team's playoffs are in grave danger. (wide)