'Kid-Thing' and 'Hellion' -- The Perfect Pair for Cinema East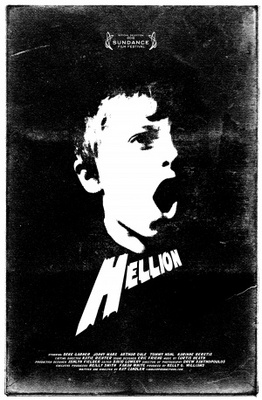 By Tyler Draker
July 8 marked the third installment of this year's Cinema East summer movie series. True to its reputation, it showed off two great films by local filmmakers.
Hellion is the short by Kat Candler that has been playing at many of the largest film festivals in the country, including Sundance and SXSW. I am currently a film student at The University of Texas and had Kat as a professor last year for the Advanced Narrative Production class. I've been trying to see Hellion since it was announced that it would be playing at Sundance. So, when I heard that it would be screening at Cinema East, I was set on going.
Hellion tells the story of three brothers who wreak havoc and the consequences when their father finds out. In the interest of not giving anything away, I'll leave the rest of it a mystery and tell you to check it out the next chance you get. It's very well acted and directed and overall it was really great to finally get to see it.
Kid-Thing by Nathan and David Zellner was the featured screening for the night, and it definitely didn't disappoint.
Kid-Thing also screened at Sundance and SXSW this past year, as well as several other festivals. The movie tells the story of a young girl, Annie (Sydney Aguirre), who is effectively on her own. Her father is pretty clueless and often a bad influence on her, holding all the authority over her that a little brother would have; that is to say, not much. This leaves Annie with complete freedom to do whatever morally questionable things she wants to, such as making prank calls or destroying a handicapped girl's birthday cake. Through her near constant solitary adventures in the woods, she discovers a woman (the late Susan Tyrrell) who has fallen into a well and become trapped. Annie refuses to get help for her or to help her get rescued but she visits almost daily to bring her sandwiches.
The story is slow and dark but it's also captivating from beginning to end. It really makes the viewer work to keep up with the story and develop their own understanding of Annie. But, it's worth it and the film is a must-see.
One of the great things about Cinema East is that they always manage to have somebody from the film, often directors and producers, there to answer questions and talk about the experience of making it. After both films had screened, they brought up Kat Candler and the Zellner brothers, along with several other people who were involved in various key positions, to do a quick Q&A. Some of the questions stumbled or left the filmmakers themselves wondering what was being asked. But for the most part they were all great questions from an audience that was engaged and wanted to know more about the filmmakers themselves and what inspired them to make the films that they did.
One question that got asked of both filmmakers was if they were like the main character or characters in their films when they were young. Neither Kat nor the Zellner Brothers based their characters off themselves but inspiration for certain aspects of them came from events that did happen in their lives. Kat's character was loosely based on a family member setting fire to their grandfather's Jeep. Parts of Annie's character were based on David and Nathan Zellner's childhood. As they described it, they certainly had a happier childhood, also growing up on the outskirts of Austin, with much less mischief. But, the sense of constant exploration in the woods around their homes inspired much of Annie's character.
The event was fun from start to finish with two excellent movies. Even the weather decided to cooperate. It looked like it might rain at first, and most people brought umbrellas along just in case. But, as Hellion (the first of the two to screen) started, the rain stopped and instead a cool breeze came through. It reminded me of why I love summer nights in Austin. Add to that a few friends, some blankets to lay out on (pro tip: bring pillows for when you inevitably lie down) and a BYOB policy and you have a recipe for an event that's guaranteed to be a good time. There are a few Cinema East screenings left this summer at Yellow Jacket Stadium in east Austin (1156 Hargrave St.). Three dollars is all it takes to get in, and they're all worth checking out!
Tyler Draker is an apprentice at the Austin Film Society.